This delightful new film provides hope and inspiration among a spate of recent dark and gloomy flicks.
I see and review a lot of movies, and they seem darker this year — bleaker than any year I can remember. The first Oscarbait flicks have begun rolling into theaters, and many are gloomy stories of self-destruction. Recent action thrillers, like The First Purge and Assassination Nation, give us socio-political statements swaddled in bloody nihilism. Even superhero stories — a genre we typically count on to be fun, inspirational popcorn munchers — feel more heavy than in the past. Heck, Avengers: Infinity War ended with the bad guy winning and with half the universe's population turning to ash.
It's not often that I leave a superhero film feeling like I have to go through the five stages of grief, but that's the kind of year it's been.
Where can one turn to for a little hope? A little inspiration?
Well try reality — like the reality we see in National Geographic's delightful Science Fair.
The movie's about (surprise!) science fairs and the high-schoolers who compete in them — which to some of you may sound about as exciting as participating in a science fair. And trust me: As a guy who only enjoyed chemistry when a lab book landed in the Bunsen burner, I understand your suspicion. But in a year where most of the movie teens I've watched have been taking drugs or selling drugs or killing their neighbors with nail guns, Science Fair is more than a respite: It's a gift.
More than 7 million youth compete in science fairs every year, according to the film, but the movie focuses on a handful of high-schoolers gunning for a spot in the wildly prestigious International Science and Engineering Fair, held every year in Los Angeles. The event draws 1,700 students from 78 countries, and almost all of those students want nothing less than to change the world.
They've got the brains to do it, too. Eighteen-year-old Ivo from Germany has created a "flying wing" style of aircraft — a design that professional engineers gave up on decades ago. (Ivo's model is far more stable than anything that's come before.) Myllena, 17, and her 18-year-old science partner, Gabriel, have seen their home country of Brazil decimated by the Zika virus — their project examines ways to stop the virus in its tracks. Then there's Ryan, a student from Kentucky, who originally thought about creating a device for a smartphone that could tell when a steak was perfectly done. But instead he threw his lot in with a couple of other students and, together, they crafted an improvement for a standard stethoscope that just might save lives. (It was "just a little bit superior to my meat project," Ryan says with a laugh.)
The students come from all sorts of backgrounds. Ryan and his crew go to an elite science-centric school in Lexington, Kentucky. But hijab-wearing Kashfia goes to a public high school in Brookings, South Dakota, a school obsessed with its 0-9 football team where its trophy cases are filled with athletic cups and medals. Meanwhile, Kashfia's own achievements — she's aiming to qualify for the International Science Fair for a second time, and finished third in her division — don't even merit an announcement over the school intercom. (Ironically, the football coach serves as Kashfia's adult sponsor. "I'm not sure how it all works," he admits of her science project, "But she makes it work.")
I was particularly drawn to Myllena's story, though. What we see of her hometown of Iracema, Brazil, makes it look dusty and poor. Her father is a farmhand, his mother is a maid. She goes to a woefully underfunded public school, where Myllena's own teachers say that students often wilt, like houseplants, for lack of attention. In a region of the world where the cycle of poverty is hard to break, Myllena is pushing not only for a better future for herself, but for her entire country.
"There were people who looked at our work and said, 'What a crazy idea. Look at who you are, public school students. You'll never be able to do this!'" Myllena says.
Myllena's mother knows her daughter can do great things if given a chance. "First of all, I believe in God, because we must put God in first place," she tells the camera. "But in second place is my daughter. I believe in her so much. So much."
Her belief seems to be well-placed — as it does for all the kids we meet. They're smart and likable and, yes, sometimes a little geeky. But few seem to harbor even a thread of cynicism. There's no sense that they see the world destined for a dystopian future. They're making their own futures — and perhaps helping to make ours, too.
We meet a 14-year-old high-schooler named Anjali during the movie, a girl who got a perfect ACT score just the year before. And if you think she's a threat to get snared in the same traps many teens do, Anjali tells you to think again.
"If I started doing drugs and other stuff right now, at age 14, I probably wouldn't make it past age 30," She says. "And then how could I give anything back to the world that has given me so much already?"
We live in uncertain, pessimistic times, and our movies — our fictional ones, at any rate — reflect that sense of unease and discomfort. Sometimes it can feel like we're teetering on a tightrope, and if we fall, we fall into despair. Science Fair suggests a brighter, better world may be in store for us.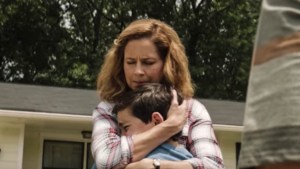 Read more:
'The 15:17 to Paris' is an uplifting tale of ordinary heroes