"We have always been there for each other. Family comes first for us."
After celebrating 40 years of marriage, Gloria and Emilio Estefan are happily celebrating a love story that has been full of shared challenges: emerging from poverty, making a career, and forming a family together.
The couple met one summer when Gloria's mother asked her to accompany her to a wedding, at which Emilio was playing the accordion as the leader of a band. They met at the door and began to talk, and eventually he encouraged her to sing a couple of songs with the group.
Gloria ended up joining as a vocalist. In July 1976, Emilio invited her to a party and from that moment on they were inseparable, beginning a journey of two years of romance until they said "I do" before the altar.
In an interview, Gloria was asked about her secret for staying together for so long. She answered without hesitation: "There is no secret. We were in love when we got married." That love was the motivation, despite the inevitable tensions, that built the respect, sense of humor, and mutual admiration that have woven a solid bond between them.
Gloria says that they are very different, but their complementarity helped them to live as a true team at work and in the family. "If we were both like him, we would be dead of a heart attack, and if we were both like me, we would still be sitting on the sofa playing the guitar in the house."
Her husband and children are everything to her. "We have always been there for each other. Family comes first for us." And if there are two pillars that have always gone hand in hand in their family life history, they are gratitude and hard work.
What the singer is sure of is that she would never sacrifice her role as a mother for her career or for her business. "Either we all go, or none of us goes. The most difficult thing about fame for me is that when I'm in public with my children, they have to share me."
"Knowing Emilio has been like living my adolescence upside-down. I have felt younger and younger throughout my life; lighter and lighter, more and more free. Before Emilio, there were few moments of happiness, and after him, there have been many, even in the most difficult times. All my life, what has made me happy is to be of service to someone. That is my goal."
Read more:
5 Ways to make it to your 60th wedding anniversary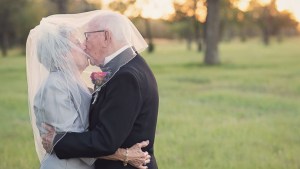 Read more:
High school lovebirds recreate their wedding, 70 years later! (PHOTOS)