In fact, it could be a sign of higher intelligence.
What can God do in your life with one Bible verse a day?
Subscribe to Aleteia's new service and bring Scripture into your morning:
Just one verse each day.
Click to bring God's word to your inbox
I've always had a pretty good memory. In school, I could remember obscure names and tiny details for exams by visualizing the page where I had read them. This skill served me so well that I aced every memory-based quiz and test I took in high school and college.
However, I've always struggled to remember basic things in daily life — like where I put my keys, or what's coming up next on my calendar. I always attributed this to a lack of organization or maybe even a failure in virtue, but according to Curious Mind Magazine it could actually be a sign of intelligence:
Remembering has always been perceived as the strongest of mental traits. However, researchers from the University of Toronto say that forgetting is as important as remembering. The paper published in Neuron focused on several studies that analyzed the neurobiology behind remembering and forgetting. It turns out that these two processes interact with each other, allowing for "intelligent decision-making in dynamic, noisy environments." The author of the review study, Professor Blake Richards, explains that the real purpose of memory is the optimization of decision-making. The brain achieves this by filtering out irrelevant details and holding on to things that will contribute to intelligent decisions in the real world … 'Bad memory' in this respect is actually a mechanism in the brain which serves to quickly make space for relevant information and not allow the brain to waste energy and space remembering the mundane and trivial information.
Granted, I wouldn't classify remembering where I put my keys as "mundane and trivial information," but apparently my brain would. This tendency has only increased as I've gotten older and the important information I need to remember has grown exponentially.
For example, I still can't ever remember where I put my keys, but my mom was shocked when I sat down to fill out paperwork for speech therapy assessment for my 6-year-old and could remember how old he was when he rolled over, sat up, started walking, and started talking.
She put all that information in baby books, but she can't ever remember it. I never made a single baby book, but I know that information for my kids like the back of my hand.
Conversely, my mom knows all of our social security numbers by heart. Growing up, any time we needed that information we would call and she would rattle it off.
I have no idea what my kids' social security numbers are — but I know exactly where the files are located in my computer and in my house that contains their numbers. I can find them at the drop of a hat, so my brain knows that information isn't necessary to hold onto.
So if, like me, you can't ever remember where you put your keys but you still know each of your children's birth weights and Agpar scores, don't stress about early-onset memory loss or a lack of virtuous organization and temperance! Your brain is just prioritizing the important information, and apparently keys aren't it.
But do think about investing in a key ring you can hang by your front door. I promise, it will save you countless hours of frustrated key-searching.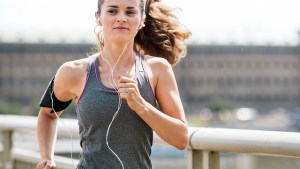 Read more:
The physical exercise that sharpens memory and counteracts stress