Clip encourages faithful to remember the 3 prayers Francis has asked us to pray in October
Pope Francis continues requesting that the faithful pray the rosary, the Michael the Archangel prayer, and "We fly to thy protection" prayer in this month of October.
Now a video from the makers of The Pope Videos is further emphasizing his request.
In the video, the pope observes:
The devil presents himself with great power. He brings you gifts. But you don't know what's inside.
The Holy Father has asked the People of God to pray these three prayers specifically with the intention of protecting the Church from the devil. He asks us to unite in communion and penance.
In the video, he specifies that these prayers are "to repel the attacks of the devil, who wants to divide the Church."
The Holy Father first asked for this prayer campaign at the end of September. Last Sunday after leading the midday Angelus, he reiterated the request.
The "We fly to thy protection" prayer is the oldest Marian prayer, dating back to around the year 250 in Egypt. Find out more here.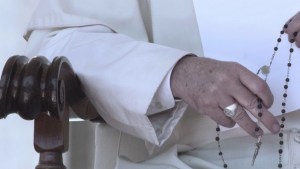 Read more:
Pope asks people of God to unite in 3 specific prayers in October, to protect Church from devil