It's not about saying the right things, but saying nothing at all.
Need an idea for Lenten almsgiving?
Help us spread faith on the internet. Would you consider donating just $10, so we can continue creating free, uplifting content?
Make a Lenten donation here
Last night, my 12-year-old daughter, Sienna, made my mom a birthday cake. She wanted to do it on her own, which isn't unusual since she's been baking on her own since she was 8. But she wanted to decorate it using ideas she'd picked up from her latest Kids Baking Championship Netflix binge.
I was totally on board. She's great at baking and even better at decorating — I was sure the cake would be better than anything I could do. So she got to work right after dinner, while I was doing laundry and bathing the other kids. By the time everyone else was in bed the cake was baked and cooled and the icing was made. She had portioned out small amounts of icing from the larger bowl and dyed them, and she was just getting started on the decorating when I made my way back to the kitchen.
I watched as she laid the border around the edges of the cake, expecting her to move inward and ice the entire cake with the neutral white icing before decorating it. But… she didn't. Instead, she laid a border and then began laying rosettes of various colors inside the border — on the plain, un-iced cake.
I opened and closed my mouth so many times I must have looked comically fish-like. Inside, I was waging a mighty battle against my urge to correct and fix what would surely be a Cake Wrecks-worthy mistake — but in the end, I won that battle. I won it because it was a battle I didn't fight in earlier years, and time after time I saw my spirited, independent, creative daughter crumple in the face of my nagging perfectionism.
I watched as she transformed from a brave, fearless little girl willing to experiment and take risks to a middle-schooler who wouldn't pick out socks without asking my opinion, much less try something new and different. My incessant need to fix her mistakes before she made them imposed upon her a fear of making any mistakes, ever — which gradually become a fear of making any decisions without seeking prior approval.
The Washington Post had a recent article on raising kids to be "confident decision-makers," and the first line of it totally struck home for me. It reminded me of the lesson I learned the hard way with my daughter, and the secret I learned — that as parents, often the best thing we can do for our kids is to stop trying so hard to help them succeed and instead, let them experience both success and failure on their own terms:
The key, which I clearly missed, is shutting up. "Parents are directing kids all the time and robbing them of age-appropriate decision-making practice," says ­Emily Green, a child and family therapist in Atlanta. "We talk them out of it. We talk them into it. Then they never have to practice their own decision-making or problem-solving skills." On the flip side, Green says, "If we can press the mute button and pause, that's where the growth comes in." "So often when we make suggestions, or we try to convince our kids what's best for them, or try to steer them into something they are good at, we are robbing them of opportunities to pick what is fulfilling for them." When we tell kids, "That didn't hurt," or, "Wear your jacket, it's cold out," we subtly undermine their own assessment of situations, Green says. "If we do that, it's not realistic that they will grow up to be adults who trust their own opinions."
In the end, the cake was a disaster. But she recognized that on her own, course-corrected, and made enough adjustments to save it from being a total Cake Wreck.
Most importantly, however, she didn't dissolve into a weeping mess of frustration and despair because she'd failed to decorate the cake. Yes, she got frustrated and did some stomping and theatrical gesturing, but after a while she seemed to realize that there was no one to blame but herself — which also meant there was no one to fix it but herself.
So she fixed it. It wasn't great, but it was better. As she worked, she started talking about the episode of Kids Baking Championship where she had seen this particular idea, and in her verbal reconstruction she recalled that it started with a crumb coat and a thin layer of icing — a salient detail she had forgotten.
"Next time," she proclaimed as she carefully added some detailed outlining to her improvised near-miss, "I'll know that I have to put a crumb coat and a thin layer on before anything else. You just can't decorate a cake any other way."
I have no idea if she's right or not, and frankly, I don't care. All I care about is that in the face of failure, she rose to the challenge instead of letting it defeat her. And that is worth 10,000 terribly decorated cakes.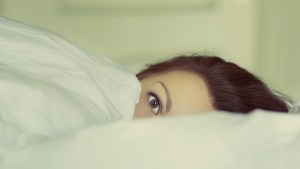 Read more:
Here's the real reason we're afraid of failure