Sometimes, the option that's conventionally "safer" is the one you end up regretting.
What can God do in your life with one Bible verse a day?
Subscribe to Aleteia's new service and bring Scripture into your morning:
Just one verse each day.
Click to bring God's word to your inbox
I let my toddler use a knife — a sharp one. When I'm feeling patient, I call him over and he helps me prep soft vegetables … tomatoes, mushrooms, olives, whatever doesn't take too much muscle. I hover over his shoulder reminding him to keep his fingers out of the way. He hasn't cut himself yet.
He could, of course. He could absolutely end up needing a band-aid or even stitches. And if he did cut himself, it would be my fault. So why let him use a knife, when it's obviously totally unnecessary? (Actually, it's worse than unnecessary, given how much his "help" slows me down.) Since I clearly don't need the help, why not tell him "Yeah, you can try that when you're older. Better safe than sorry."
It's because I'm trying to break free from a life ruled by the "better safe than sorry" approach to parenting. Safety is a huge priority of mine, but "better safe than sorry" doesn't tell the whole story. It only reminds you of one risk — a cut finger, a skinned knuckle — but the thing about risk is that there's never just one. So on the one hand, there's the risk that he ends up with a cut and a band-aid. I do hate that thought.
But the other risk is legitimate too: that he picks up the idea that he can't be taught certain skills that his specific physical and emotional development can actually handle. I'd be very sorry if that's what he grew up thinking. I hate that idea even more than I'd hate it if he got hurt.
Luckily, there's never just one bad option. There's never just one risk. If you leave your house in the car, you may get into an accident. If you decide you'd better be safe than sorry, you risk turning into a bored, unhappy recluse instead. Both potential outcomes are terrible, so you decide which risk is more likely, and you do your best. Sometimes, the option that's conventionally "safer" is the one that you end up regretting.
We adults make this call all the time, but we're reluctant to pass on the same grace to our children. It's tempting to think we can control their world so well that we can stop all the bad things from happening to them.
I actually find that ditching the "better safe than sorry" mantra is extremely comforting. When any risk a child takes has that big flashing "DANGER" sign attached to it, I get all caught up trying to avoid that potential awful outcome, however unlikely it might be. When I remember that there's actually danger all over the place, and lots of it, I can be a little more clear-headed. I can stop, remember who he is, decide which outcomes are common enough to be worth trying to avoid, and use my God-given common sense. (I can remind myself that my sense of control is largely an illusion, too.)
It's my job to protect my children, absolutely — I just have to protect them from the less obvious dangers too, and sometimes that means they get to use the grown-up knife.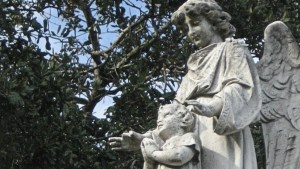 Read more:
Worried about your children? Say this prayer to their guardian angels