Teen brains change after puberty, causing them to stay up and sleep in later.
What can God do in your life with one Bible verse a day?
Subscribe to Aleteia's new service and bring Scripture into your morning:
Just one verse each day.
Click to bring God's word to your inbox
I'm only two short months away from having a bona-fide teenager … and yet, I doubt my oldest daughter's 13th birthday will bring any sort of revelations about what the teenage years have in store for us. The truth is, I feel like I've had a teenager for months already. We're already knee-deep in the moodiness, the three-hour phone calls with friends, and maybe most noticeably, the completely wacky changes in her sleep schedule.
Sienna used to fall asleep the second her head hit the pillow. Granted, she'd complain about going to bed the way all my kids do, but once she was in bed it was all over. She was out.
Just like that.
But a few short months after her 12th birthday, that began to change. It started slowly — it took her a little longer to fall asleep at night, and she was a little harder to wake up in the morning. Gradually, she became a full-fledged night owl. Once 8 p.m. hits, she's buzzing with energy. She wants to talk, watch TV, do her hair, paint her nails, and sleep is the last thing on her mind. I practically have to drag her to bed every night, and she wakes up bleary-eyed and slow as molasses.
None of this is surprising. I've known for a while that teenagers brains literally change, and part of that change effects their sleep cycles — so much so that as the New York Times points out, early school start times are incredibly detrimental to teenagers at a biological level.
After puberty, adolescents are no longer the morning larks of their younger years. They become rewired as night owls, staying awake later and then sleeping in. This is not part of a feckless project to frustrate parents, but is driven by changes in the way the brain responds to light … Excessive screen use is compounded by a dangerous tradition: starting high school abnormally early. Based on data available from 2015, 86 percent of high schools started before 8:30 a.m., and one in 10 high schools had a start time before 7:30 a.m. Prying a teenager out of bed at 6 a.m. to get to school is the equivalent of waking an adult at 4 a.m. The brain will be at its least active in the 24-hour cycle, which explains the monosyllabic grunts of teenagers as they lumber to the school bus.
Y'all, I wake up at 4 a.m. three days a week to train my camps, and I can attest that my brain is barely active. Even on nights when I manage to get to bed by 9, I still feel like an absolute zombie for a good hour and a half after I wake up.
Luckily, my job involves a lot of physical activity that helps wake my brain up. If I had to get up at 4 a.m. and go sit in a classroom, I cannot imagine how hard it would be to listen, learn, or even care.
I'm incredibly grateful that my daughter's school recognizes that teenagers need to more sleep, and that putting them to bed earlier isn't a biologically realistic solution. She doesn't start school until 8:45, so 6 a.m. wake-up calls are few and far between. And since 8 p.m. is her cutoff time for screens at night, she almost always manages to get the sleep she needs.
But if her school day started at 7:30, there's no way she would be sleeping enough. Even if I turned off all the lights in the house and forced her to go to bed at 8, she would lie awake for an hour or more. Her brain just doesn't turn off in the late evenings anymore — it revs up. And although there are things we can do to prevent exacerbating her night-owl tendencies, there's nothing we can do to change it.
So don't be frustrated when your teenager stays up late and wants to sleep in. If their school day starts early, let them sleep as late as they can on the weekends! It's not laziness, it's biology — your teenager can't help it.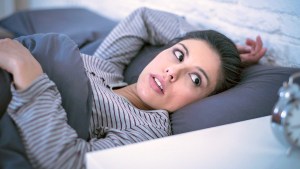 Read more:
Got insomnia? Here's a meditation for when you can't sleep