Research has revealed an interesting fact about our brain function, and it may be true for everyone.
What can God do in your life with one Bible verse a day?
Subscribe to Aleteia's new service and bring Scripture into your morning:
Just one verse each day.
Click to bring God's word to your inbox
My mom is old enough to retire, but like most Americans these days she can't afford to. She also happens to love her job. But the long hours are starting to get to her. By Wednesday, she's tired; by Friday, she's exhausted. And according to Curious Minds, there's a scientific explanation for why people over 40 shouldn't be working 40-hour weeks:
Cognitive decline can happen as early as in your 40s. It manifests with losing the ability to focus and remember important facts. This overstimulation and cognitive decline usually happens because of your excessive work. The Melbourne Institute of Applied Economics and Social Research did interesting research about the working hours of people over 40. This study involved 3,500 women and 3,000 men at the age of 40 and over. What they found out was that working up to 30 hours a week is great for your brain. This is the good limit for improving your cognitive function when you reach this age, but once you cross the limit of 30 hours, your performance will start getting worse… The study proved that 55 hours or work a week worsens cognitive function and impairment is even worse than in people who were unemployed or retired.
So while continuing to work is important because your brain benefits from cognitive stimulation, it turns out that there really can be too much of a good thing. It doesn't surprise me that cognitive function declines with excessively long work hours, but it absolutely surprises me that a 55+ hours work week causes cognitive impairment that's worse than for people,who lack the stimulation entirely.
However, this study was limited to those who are already over 40. I would be curious to see the results if this same study were done on a wider age range, from as young as 12 to as old as 80. After all, our kids' school weeks mirror our 40-hour work weeks exactly — if these results hold true for those younger than 40, it could be proof that both education and productivity in our country are suffering because of excessive hours.
That result would not surprise me. Psychologists and education researchers have long known that both children and adults work best in limited bursts of work with periods between for rest and recovery. Personally, if I focus on the same task for longer than two hours, I stop making progress. Two hours is my limit — I have to switch my focus, get some air, get some exercise, or do something to shake things up and let my brain reset. Continuing to pound away at a task that my brain has burned out on would definitely be counter-productive, so it makes sense that our 40-hour work week might also be counter-productive.
Unfortunately, even if some large-scale and groundbreaking study revealed that working 40 hours a week turns us into lizard-people, I doubt that would have much impact on the way our society is structured. We'd probably just keep tapping away at our keyboards with our lizard-hands, because someone has to make the money to feed the lizard-kids, right?
Lucky for us, since we're not (yet) lizard-people, we can find ways to give our brains a break throughout the workday. Even 15 minutes here and there can add up to several hours of cognitive rest and recovery, and help minimize the negative effects of overstimulation, the same way that recess, PE, and those 10-minute passing periods help our kids recover during long school days.
So don't feel guilty if you need to get outside and take quick walk at work — and if your boss objects, explain that you're actually doing important cognitive maintenance in order to improve your job performance and productivity.
That'll work. I'm sure of it.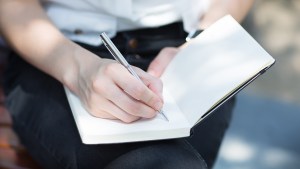 Read more:
To-do list out of control? Take this advice from a 1900s productivity guru