St. Pope Paul VI (as of Sunday) was the pope who made Ratzinger a cardinal
Pope Francis visited Pope Emeritus Benedict XVI this evening, hours before one of their predecessors, Paul VI, will be canonized a saint.
The Holy See reported that Francis went to visit Benedict in the Vatican monastery where he has stayed since his retirement.
Pope Paul VI was the pope that made Joseph Ratzinger a cardinal. It was Pope Montini's last consistory, in 1977.
It was Benedict who recognized the heroic virtue of his predecessor in 2012.
One of the few public appearances of Benedict's retirement was at Paul VI's beatification in 2014.


Read more:
Of the 266 men who have sat upon the Throne of Peter, how many have been canonized?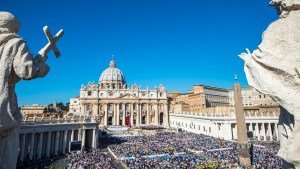 Read more:
7 Holy men and women who will be canonized by Pope Francis on Sunday