Don't rob yourself of its many advantages.
What can God do in your life with one Bible verse a day?
Subscribe to Aleteia's new service and bring Scripture into your morning:
Just one verse each day.
Click to bring God's word to your inbox
We've all had the experience. On the way to work, or to an appointment, we are surrounded by noise: the sound of the cars and buses around us, the radio or podcast we might be listening to, announcements at the train or subway station, the, click-clacking of heels, etc. Then, we get into an elevator, and … awkward silence. A man clears his throat, a woman shuffles her feet. No one wants to talk, but no one wants silence, either.
Fear of silence
We seem afraid of silence. Often when I visit family, friends or even complete strangers, I notice their need for noise. In the morning, right after they turn off the alarm, they turn on the radio while getting ready for work. Going to the university, they listen to music on their headphones, completely isolated from what is happening around them. When they get home, even before they eat dinner, they turn on the TV, just so that something is "talking." They use a tablet right before going to sleep. They turn on the alarm on their phone, which after eight hours will ring to start the cycle all over again. But when we don't experience silence, we are robbing ourselves of its many advantages.
Why is silence good for us?
It is in silence we can find answers to difficult questions. If we drown our thoughts with radio, TV, or YouTube videos, we aren't giving ourselves the chance to think and find the solution.
A lack of silence makes us tired and doesn't let us stop to think about our everyday life. The constant noise and buzz negatively affect our nervous system and cause stress and fatigue, and inhibit our ability to concentrate.
Silence is also a form of communication. It allows us to encounter God, for example during adoration, meditation on the Holy Scriptures, or through spiritual exercises or prayer.
External silence can be an aid for us to attain greater interior silence. It allows us to process things, and thus, by addressing and ordering them internally, find a moment of rest from the multitude of thoughts which threaten to overwhelm our mind with a flood of tasks and concerns from our current to-do list. It lets us be present in the here and now. Take a moment of rest from noise: it's worth it.
Thanks to all of the above, silence helps us find a sense of peace and to grow and mature spiritually. It gives us the opportunity to deepen our reflection on the meaning of our life, and get to know ourselves better, which opens the door to self-improvement.
Silence helps us develop creativity. When we aren't constantly bombarded with new information, we have time to sort through all the stimuli we've received and come up with our own response.
Similarly, it gives us time for critical thought, so that we can evaluate the things we hear and see in the light of our principles, logical thinking, and experience.
It helps us build our relationship with others. When we learn to rest in silence, we become better listeners, truly opening ourselves to what others have to say instead of simply waiting for them to stop talking so we can express our own opinion.
Take action
Take a good look and analyze what in your environment robs you of calm and silence. Try giving up, even for one day, using your smartphone or tablet, watching the television, or using social media on your computer. In the time this frees up, try to focus on your inner self — for example, silent prayer or meditation. Who knows what you'll discover when you turn off the distractions and look inwards!
Read more:
5 Ways to make time for silence in a noisy world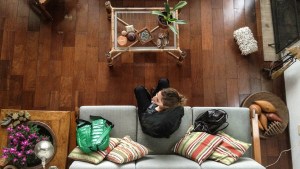 Read more:
How silence stopped terrifying me, and started healing me