This trait evolved to help us make good-enough decisions, but we need to understand where the goalposts are shifting.
What can God do in your life with one Bible verse a day?
Subscribe to Aleteia's new service and bring Scripture into your morning:
Just one verse each day.
Click to bring God's word to your inbox
Less than a year ago, I thought my life was busy. Sometimes I even said it was "crazy busy." I had five kids — four in school and one at home. We all took taekwondo as a family. I worked part-time. It seemed to me that there was always something to be doing and never much down time.
I look back at my life a year ago and laugh a little now. What a silly girl, to think she was "crazy busy"! These days I still have five kids, and every day they go to three different places (two schools and one childcare). The oldest four are each involved in sports and every night of the week we have practice or games except on Wednesday, when we have youth group. I help coach two of my sons' soccer teams, and we have three games every Saturday. Oh, and I still have that part-time work — I've just added a full-time job to the mix as well. Now, I tell myself, I really am crazy busy.
But what if a year from now we've got even more going on? What if my kids add a sport or take up select sports that require nightly practice? What if I volunteer to help with one or more classrooms or activities on top of helping to coach? What if we're moving, and we have to add the logistics of packing into our daily lives? I can guarantee that I'll look back on this time and laugh a little at what I think, right now, is a crazy busy life.
None of us are strangers to this phenomenon — we've all experienced it in one way or another. And it turns out that our tendency to change our perception in relation to our circumstances is an evolutionary trait, according to Tonic:
Research from cognitive psychology and neuroscience suggests that this kind of behavior is a consequence of the basic way that our brains process information — we are constantly comparing what is front of us to its recent context.

It turns out that for your brain, relative comparisons often use less energy than absolute measurements. To get a sense for why this is, just think about how it's easier to remember which of your cousins is the tallest than exactly how tall each cousin is. Human brains have likely evolved to use relative comparisons in many situations, because these comparisons often provide enough information to safely navigate our environments and make decisions, all while expending as little effort as possible.
This is the reason that people in low-crime areas see threats lurking everywhere and alert their neighbors or the police when they see a car they don't recognize or a stranger walking down the street. It's also the reason successful neighborhood watch programs often don't see a marked decrease in calls to the police — as the environment gradually changes, the definition of what is considered "criminal" also gradually shifts.
While this was certainly a helpful adaptation in many areas, the tendency to shift our definitions in relation to shifting circumstances can create problems — especially when it comes to our sense of accomplishment or improvement. If we are slowly growing in virtue, it can be hard for ourselves and our close friends or family to recognize that growth … which can inspire frustration or worse, an attitude of defeat.
But as with all things, awareness is huge. Recognizing this innate tendency to shift the goalposts can help us be more patient and merciful — with ourselves, our loved ones, or the stranger walking down the street.
As for me, I might indeed look back at myself next year laugh at what I thought "busy" was. But it will be a fond laugh, because I will know then — as I know now — that no matter how much circumstances change, I'm getting up each day and trying to be a little better than I was the day before. And really, that's all I can expect.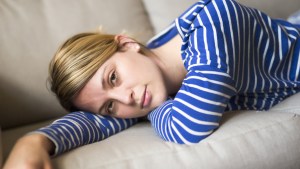 Read more:
Why motivation is garbage