While marble busts of veiled women were quite popular in the 19th century, Strazza's Veiled Virgin was deemed "a perfect gem of art."
Maybe not as famous as Sammartino's 1753 Veiled Christ, Giovanni Strazza's Veiled Virgin is another exceptional sculpture, featuring a human figure covered with a transparent shroud carved out of the very same marble block shared with the rest of the statue. The sculptor's mastery, able to make the veil covering the head of the Virgin seem in fact "transparent," earned this piece a well-deserved place in the history of Western sculpture.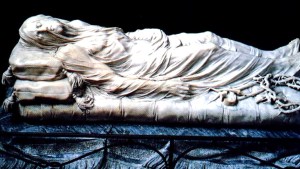 Read more:
The Veiled Christ: The Miracle of Transparent Marble
Strazza was born in 1818, and carved the sculpture from Carrara marble in Rome around the year 1850. It was sent to Canada in 1856, where the then bishop of Newfoundland, John Thomas Mullock, received it, saying "it is a perfect gem of art."
The sculpture was kept in the Episcopal Palace of St. John's Cathedral in Newfoundland and Labrador, until it was moved next door to the convent of the Presentation Sisters in 1862.