My father's lack of affection for my mother led me to do things differently in my own family.
When I was a child, I noticed that my father didn't show a lot of affection towards my mother. As I got older and visited other families, I noticed other parents weren't that way — fathers would come home from work and immediately kiss their wives, for instance. I started to wonder if my father's lack of affection meant that he didn't love my mother as much as other men loved their wives.
Years later I learned that my fears were unfounded — my father deeply loved my mother — but that childhood experience led me to do things differently in my own family. How we treat our spouses in front of our kids communicates far more than we realize. Here's what I try and do as a husband and father to set an example for my kids … 
Coming home
In my house, when I arrive home, all three kids (ages 5, 3, and 1) are usually awake and engaged in some combination of either yelling or crying. The house is strewn with toys, discarded food packets, and other trash. Yet I always make a point to go to my wife and kiss her. I want my children to see that whatever stresses I've had at work, however many toys have had to step on to take 10 steps into our house, I love their mother, am grateful for her, and want to show it. Of course, I also shower affection on my children in those first moments, too. I want to communicate that the love our family shares is more important than anything else we might be experiencing.
Random acts of affection
When I'm around the house, spending time with my family or engaged in some project, I often take a moment to express affection for my wife. For example, if my wife is cooking dinner, I'll come up and hug her from behind. Even better are those times when she's involved in some activity with our kids — such as reading — and I make my affections known. Then all my children get a visible example of the spontaneous love I have for their mother. Again, it's just as important to show it to them in those moments too, but kids need to see that their parents aren't just co-owners of the "household business of family," but two people who love one another. The spontaneity is important because everyone needs to know they are loved all the time, not just when they do something well or on special occasions.
Silly romance
When my wife and I were dating and engaged, we danced a lot. I hosted dance parties at my house, and my roommate-slash-DJ would get scores of people on the dance floor all night. As most married couples can attest, it's a lot harder to make time for something like that when you've got full-time jobs and small kids taking up all your time. Yet even the briefest moments of fun-loving romance are valuable for children to see. Sometimes after dinner, particularly on weekends, my wife and I will play music and waltz around the kitchen in full view of our confused kids. It's goofy, and I'm not sure what our children think, but what they see are parents whose relationship still possesses a romantic sense of fun and wonder.
What kids see is what they learn
The lack of affection or romanticism demonstrated by my father towards my mother had a strange influence on me. It led me to think erroneous things about his love for my mom. I know now how wrong I was —  as my father was dying of cancer, he told me one of the things he was most proud of was that he never cheated on my mother.
I don't want my kids to ever doubt that their father cares for their mother. Moreover, I want my daughters to develop an expectation that any prospective husbands should be men who aren't shy to publicly express their love for them. I want my son to be a man who will never make his wife doubt his love or faithfulness. Indeed, as St. Thomas Aquinas argues, our actions and habits form us — if we consistently demonstrate love for our spouses, it will help make us into the kind of loving, faithful people we yearn to be.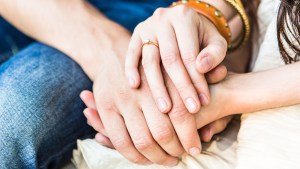 Read more:
New research says this kind of daily prayer can change your marriage