Some people find "vocation" a stressful and difficult theme. That's a sign we're approaching it the wrong way
What can God do in your life with one Bible verse a day?
Subscribe to Aleteia's new service and bring Scripture into your morning:
Just one verse each day.
Click to bring God's word to your inbox
For some Catholics, discerning their vocation is an anxiety-filled, angst-ridden prospect.
Young Catholics are often uncertain if they're called to marriage or to the religious life or priesthood, and they are unsure how to figure that out. The result for some is paralysis, longtime fence-sitting for fear of committing the "wrong" way. They worry they'll be locked in one choice and suddenly think: But what if this isn't what God is calling me to?
And that is the crux of the matter: What is God calling us to, and how can we know it? The tools often given us to determine this answer are less than helpful. Some advise us, Obi-Wan Kenobi-style, to "trust your feelings"—but feelings can change daily or hourly, so how can we rely on them? Others suggest "ask God to send you a sign," which leaves us looking for a note on our pillow or a message hidden in our alphabet soup.
We want something obvious and clear, because we don't want to miss it or mistake it. We want to be sure. We want to have no doubt. Why won't God just tell me what to do?
The problem is, with that attitude, we're approaching the question in the wrong way. We're conceiving of vocation as a command when in reality it's an invitation—a calling. When God issues imperatives, He does, thankfully, make them in an attention-grabbing manner, inscribing them on stone tablets and speaking from burning bushes. But when God invites us to something, He changes his manner. Gone is the burning bush; instead, God employs the tiny whispering sound that He did with Elijah, the gentle call in the middle of the night that he did with Samuel, the simple, "Come, follow me" with which Jesus drew James and John.
Still, it's unlikely we'll hear God's voice even in this way. But God speaks to us in many ways. When we look at salvation history, God reveals Himself and His will through events and people even more often than He does through direct communication: the calling of Abraham, the Exodus, the Babylonian Captivity, the Return from Exile, all leading to the life, death, and resurrection of Jesus. These might seem like disparate happenings; it's only when we step back and view all of these together that we can see the tapestry of God's saving work.
Read more:
Why beauty will save the world and why that's good news, even today
This is our recurring problem in vocational discernment: We want God to communicate to us, and He does, but not in the way we'd prefer. We would like a photograph, but God gives us an impressionist painting instead. The lines aren't always clear; sometimes the shades blend into each other; a figure might be one thing or another.
We have to get used to the way that the artist uses color and shape to create the image. It's not the sort of presentation we're accustomed to, but the image is there, if only we have eyes to see it.
Read more:
The Holy Spirit as Divine Artist
This is how God invites us to consider our vocation. He uses the events of our lives, our natural inclinations, the reflections of friends and family, all together to create a pattern, an impression, that might be difficult to make out at first, but once your eyes lock on to it, you wonder how you ever missed it.
It doesn't have the unmistakable quality of a photo or a voice shouting through a megaphone—but then, when God became man, He didn't come as a mighty king sitting astride a war horse, but as a baby born in a barn. God's ways are not our ways. He speaks to us in ways we can understand, but not in the ways we expect.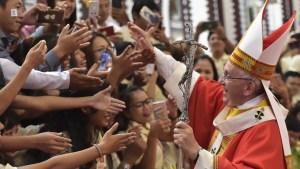 Read more:
Just 2 min a day with the Gospels, and your life will change, says Francis
Read more:
My little sister joined a convent. So why am I this angry?