On 40th anniversary of his election, we remember his first advice: Be not afraid!
At the end of today's general audience, Pope Francis invited the pilgrims to remember one of his predecessors: Pope St. John Paul II, who was elected 40 years ago this week, on October 16, 1978.
After calling for the round of applause, Francis said:
The words he spoke on the day of the inauguration of his pontificate are always current: Do not be afraid! Open wide the doors to Christ!" May they continue to inspire your personal, family and social life; they are an encouragement to follow Christ faithfully, to see His presence in the world and in others, especially in the poor and needy. In fact, as the Pope of Polish lineage taught, man is the way of the Church. I bless you from the heart.
See the footage of John Paul II's first moments as Successor of Peter here: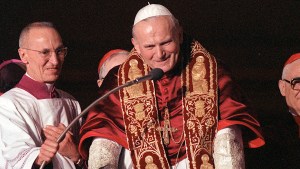 Read more:
RARE FOOTAGE: Watch Pope John Paul II's first words after his election