Kids need to know this one important thing before they can accept direction for improvement.
My kids have the day off school, so when I came home from training my mid-morning CG camp they greeted me excitedly at the door. It was pretty awesome to have them literally cheer when I crossed the threshold, but I couldn't bask in it too long. I had a pile of work to get done before I could sit and enjoy their company — and since that's all I really wanted to do, I got straight to work after a round of hugs and greetings.
As I was getting settled in front of my laptop, my 8-year-old came around the corner. "Um, excuse me Mom?" he said quietly. I looked up, smiled, and responded, "Hey Liam, what's up buddy?" He took a step closer and said, "I just wanted to know if there's anything I can do for you — you know, like to help."
Out of nowhere, I realized that he's been asking me this for a few weeks now. Every time I have a lot of work to do, he'll appear out of nowhere and ask how he can help. I've noticed and appreciated each isolated incident, but for whatever reason I hadn't recognized the consistency. It was kind of an overwhelming thing to realize that my son has been constantly finding ways to let me know that he wants to help, and that I can depend on him. But it was even more overwhelming to realize that I hadn't even noticed. Not really. I mean, I'm sure I've said thanks every time he's asked, but I haven't noticed and praised his thoughtfulness, compassion, and selflessness.
Every once in a while this sort of thing happens. I'll suddenly realize that one of my kids has been consistently doing some good deed for a while, and I haven't even noticed it — much less commented. But you can bet I notice and comment every single time they leave their shoes in the middle of the kitchen floor again. This discrepancy bothers me — I know it's wrong to give more weight to what they do wrong than what they do right, but what I didn't really understand is that it's not just a matter of balancing the two. Simcha Fisher explained why focusing on criticism instead of praise is so damaging to our kids in her article at Catholic Weekly:
Use positive reinforcement, or "catch them doing well." I used to think that giving regular praise would make a child vain and fragile, and that plenty of constructive criticism would make him tough and eager to achieve. It is true that praise should be sincere, not mindless and constant; and it is true that deserved criticism is just and necessary. But criticism from parents tends to come across ten times louder than praise, and it tends to live ten times longer in the psyche. A strong backdrop of praise makes necessary criticism more effective; whereas constant criticism breeds insecurity and bitterness. The kids who achieves a lot because he's constantly criticized is a kid who's frantically running away from worthlessness, which is manifestly not the same as a kid who's confident and ambitious. So praise your children regularly, as long as it's all true. It's much easier to correct an over-inflated ego than it is to rebuild a shattered one.
Of course, I know this is true because I experience it. Any criticism from my parents — even mild, constructive criticism — carries a totally disproportionate weight in my mind. Even though I can recognize that disproportion, I can't seem to make it disappear.
But I'm blessed to have parents who've always recognized that their children need to hear about the things they're doing right more than they hear about the things they're doing wrong, so I have the "strong backdrop of praise" that Simcha refers to. In fact, that might be one of the reasons their criticism is so effective — I know it's not just one more complaint thrown on top of an overflowing pile, which means I can't just dismiss it. My parents' criticism stands out precisely because it's rare … which means when they make a criticism, I take it seriously.
Granted, I wouldn't put "pick your shoes up" under the umbrella of "necessary criticism" … it's more an unavoidable refrain of parenthood. But it's still important that I recognize where I've been failing to praise my kids and start to rectify it. They deserve to know that I see, hear, appreciate, and love them to pieces, because I do. And if one day I have a criticism that's far more serious than errant shoes, the only way they'll be able to take that criticism is if they're secure in the knowledge that my love for them is unquestionable, unconditional, and unbreakable.
And now if you'll excuse me, I have an 8-year-old to praise.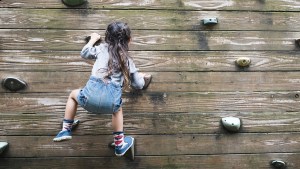 Read more:
Why you shouldn't make life too easy for your kids