As our participation here was impossible, and became possible, now we hope for a visit to our country from the Bishop of Rome
Being able to participate in the Synod on the Youth is "an experience of grace," said Bishop Joseph Guo Jincai of Chengde, China, speaking to the Italian Catholic daily Avvenire in an article published this week. "I really felt how the Church is a unique and big family, even if the cultures and languages ​​are different," he added.
The bishop of Chengde said he was "deeply moved," as was Pope Francis, when he welcomed the Chinese prelates during the opening Mass of the synod on October 3.
"At that time, more than 70 years had gone by," said Bishop Guo Jincai. It was a period during which "we suffered, we waited so many years."
"And finally, the grace to be in full communion with the Successor of Peter has arrived," he said.
The bishop referred to how the Church in China has existed underground, since the government would not allow the Vatican to choose bishops and insisted on selecting its own leaders for the "official" Catholic Church, registered with the government.
As the culmination of years of work to reach an accord, the Vatican and China recently signed an agreement.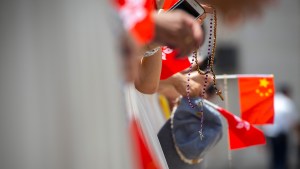 Read more:
Pope writes explanation in wake of new accord with China on bishops

During their stay in Rome, Bishop Guo Jincai and another Chinese prelate participating in the synod, Bishop Jean Baptiste Yang Xiaoting, bishop of Yan'an, have been at the Saint Martha residence, able to live beside the Sovereign Pontiff.
During their various meetings, the bishop said, the pope has said how he loves their country, and prays a lot for Chinese Christians.
"We told him that the Church in China is praying for him," said Bishop Guo Jincai.
The two bishops also invited the Pontiff to visit their country. "We pray for this (…) this moment will come, just as our presence here, which was impossible, became possible," said the prelate.

The first Chinese bishops to attend an assembly of the Synod of Bishops since its establishment in 1965, Bishop Guo Jincai and Bishop Yang Xiaoting left Rome on October 15. They will not participate in the votes on the final document of the synod.
Read more:
China may end all limits on family size