Luckily for us, Our Lord is okay with our stupidity.
What can God do in your life with one Bible verse a day?
Subscribe to Aleteia's new service and bring Scripture into your morning:
Just one verse each day.
Click to bring God's word to your inbox
This Sunday — the 29th Sunday in Ordinary Time, Year B — James and John have a simple request of Jesus: "Grant that in your glory we may sit one at your right and the other at your left."
It is a stupid question, revealing a misunderstanding that goes to the very heart of Jesus' message.
Imagine what God would be like if Jesus had said, "Absolutely. You've got it!"
If God assigned places of glory based on who got close enough to him to ask for favors at the right time, then he would be a divine version of our worst tendencies. He would be an almighty politician, dispensing favors and denying places based on his personal whims.
He would be like a pagan god. We would have to try to appease him as best we could, always worried that his temper might turn against us despite our best efforts. Our life would be meaningless if we were out of favor with him and we would be no better than political cronies if we were in.
But he isn't like that. Jesus Christ holds all of us to the same standard. None of us gets an automatic "in."
Or imagine if Jesus had said, "That's a small-minded, egotistical question. Away with you!"
What if God disdained absurd questions like James' and John's? What if he had no patience for our tendency to self-aggrandizement?
He has every right to. He is the great almighty, and we are puny nothings. He could thunder from the mountain and allow no one but the accomplished and holy to approach him, and only listen to their finest questions.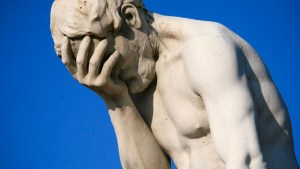 Read more:
Wishing you hadn't done or said that? This saint can help
But if he did, I, for one, would have no chance at speaking to him, because I'm also an arrogant failure when it comes to much in the faith.
He isn't like that, either. He doesn't treat us as insignificant disappointments who can safely be ignored.
So, how did he answer? Like a dad.
"You do not know what you are asking," he said. "Can you drink the cup that I drink or be baptized with the baptism with which I am baptized?"
This sounds like the kind of answer a soldier's little boy would get if he asked, "Dad, will I get a Purple Heart and a Silver Star medal one day, just like you?"
Or like the boy who it is said asked John Paul II if he could be pope one day, just like him
The dad would answer with a heavy heart that, yes, he might one day also have to face the kinds of things that get those medals. (It's said John Paul II simply nodded his head and replied, "Oh, if you knew what you were asking!")
Jesus, who knew that St. James would be killed and St. John exiled, said, "The cup that I drink, you will drink, and with the baptism with which I am baptized, you will be baptized." But he wouldn't promise anything more than that for a life yet unlived.
But Jesus answered with more than just his words.
In fact, the disciples asking to be given seats of honor felt like they were free men asking for an upgrade when they were in fact more like hijack victims who needed to be freed before they could be given anything.
This is exactly what happened, as a matter of fact. Jesus says he came "to give his life as a ransom for many."
"He gives his life as an offering for sin," says the first reading.
There would be no honor for the disciples, and their suffering would be worthless, unless Jesus first took their sins on himself and freed them. To answer their question, Jesus didn't only speak to them. He died for them.
The first thing this means for us is open the floor for questions.
Because Jesus answered James and John this way, we know we can turn to God with any question, however absurd.
"Since we have a great high priest who has …  been tested in every way, yet without sin," says the second reading, "Let us confidently approach the throne of grace to receive mercy and to find grace for timely help."
"For the Son of Man did not come to be served but to serve," says Jesus.
The second thing this means for us is that we need to imitate the one we are asking.
"You know that those who are recognized as rulers over the Gentiles lord it over them, and their great ones make their authority over them felt," he says. "But it shall not be so among you. Rather, whoever wishes to be great among you will be your servant; whoever wishes to be first among you will be the slave of all."
In the end, Jesus won't honor people based on who happened to catch him at a good moment and ask. He will honor those in whose lives he recognizes his own.
Read more:
One simple trick to help you remember to trust in God