Mothers make a unique and fundamental contribution to society on many levels and we must preserve this.
Need an idea for Lenten almsgiving?
Help us spread faith on the internet. Would you consider donating just $10, so we can continue creating free, uplifting content?
Make a Lenten donation here
Motherhood — the act of being a protagonist in the creation and nurture of a unique and unrepeatable being — is a true gift.For nine months, a mother nurtures within her body and soul her dreams, happiness and gratitude for life as a new human is being formed within her. Mothers are both witnesses to and participants in the development of this person with his or her distinct genetic make-up and inner mystery – an individual who couldn't have existed had it not been for that particular moment of a specific man and woman who are his or her parents.
More often than not, the expectant wait culminates with that wonderful moment – the child's birth! For the first time, the father and mother can see in full that little "stranger" who has lived inside her mother's womb for nine months. Until now, they have been like two bodies in one, so along with the "Hello!" there is also a certain "Goodbye!" too, as that small seed that grew so naturally into a fully developed human being will continue to grow in its own garden as a separate individual.
And of course, there is the profound motherhood that some women choose when they adopt a child who becomes every bit their own as a biological child.
Society must promote and protect motherhood
Protecting and supporting motherhood is a social duty. Even just from a practical perspective, society must favor motherhood, because motherhood fulfills a social function: it provides the world with new human beings who, among other things, will help pay for the retirement of their mothers' employers and co-workers, and the nurses and doctors who brought them into the world.
A species that doesn't reproduce itself tends toward extinction. While the world population is not even close to extinction, there are alarming signs of stagnation and even population decline in the coming decades, at least in developed countries – and even in developing nations there are some similar social indicators of a decline.
We need to make motherhood and work as compatible as possible
As a society, it's important to ensure that women are able to alternate between motherhood and a professional career if they want. For this to work, it's necessary that a husband provide his wife with all the support she needs to develop her knowledge and professional capacities. On the one hand, the mother must have enough time to do her part in raising their children, without irreversibly damaging her career and/or her involvement in society. On the other hand, her work shouldn't negatively affect the attention she owes her children.
In some ways, today's economic pressures make it difficult to find an optimal balance between women's dedication to their family and to work outside the home. Therefore, it's more important than ever to affirm that the world of work must learn to respect the gift of motherhood. To the degree that it fails to do so, it runs the serious risk of becoming dehumanized. Both the work force and culture need the "feminine genius" of women so as to become and remain a more welcoming, more enjoyable, and more livable world.
Women who are mothers can make a peculiar contribution in this regards if the world recognizes the complementary differences between women and men within their equality as people – and if their special timetables are respected so that their work obligations are adapted to their unique condition as mothers. The contribution of women through motherhood is truly a gift for all of humanity.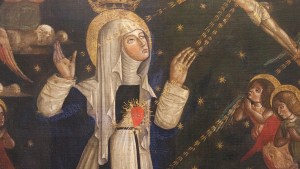 Read more:
5 Things the mystics have taught me about motherhood