Blessed Frédéric Ozanam and his wife are an example of humor and tenderness.
Blessed Frédéric Ozanam was a French scholar and founder of the Conference of Charity, now known as the Society of Saint Vincent de Paul. A man of faith, he cared deeply for those in need, and was very devoted to his beloved wife, Amélie. The almost daily correspondence between the couple (recently published in the original French) reveals how simple expressions of their deep, reciprocal conjugal love helped make their union successful — something we can all apply to our own marriages.
A particularly charming example shows their humor and devotion in the midst of difficulty. One year after their marriage, the couple were geographically separated for several weeks during the summer and fall of 1842. After a miscarriage the previous May, Amélie's weakened health meant she needed rest. This she was able to find in a cottage rented by her parents in Ouillins, in the suburbs of Lyon in the southwest of France. Frédéric's work, as a professor of foreign literature at the renowned Sorbonne university, kept him in Paris.
Although Frédéric had a taste for desserts, he decided to take a vow to deprive himself of pastries while he was separated from his wife. It was a proof of his love, as well as proof of his ability to sacrifice, to deny himself a treat he enjoyed, in honor of his wife. It was a way of saying that a pleasure is only fully appreciated when it is shared, and it was a means of keeping his wife close to mind despite their temporary separation.
"So that I may hold to tradition, I have made a vow of love: not to buy little cakes so long as I have not the pleasure of sharing them with you." (Letter dated July 23th, 1842)
However, he was faced with a terrible dilemma when their maid served a cherry tart for dessert after dinner …
"Today I have resisted all temptation although my courses [routes] made me pass by the richest display of that appetizing industry. At dinner, Marie, who takes care of me, put a cherry tart in front of me. The case was serious, and the problem most thorny. After a long and mature examination in which all the economic, gastronomic, and moral considerations were weighed, I widely resolved the problem by one of those distinctions with which I distinguish myself. Seeing that the fruit tart was undoubtedly available to you, surrounded with the delights of Quillons, I, not in my own name, but as your power of attorney so charged with receiving and consuming all revenues, received and consumed your portion that is, half of the object in litigation; the rest was left intact, and I have renewed the promise not to set foot inside any bakery on earth until the day when other pretty little feet will cross the doorsill with me." (Letter dated July 23, 1842)
Three days later, Amélie, who'd been touched by his efforts, replied to him and released him from his vow:
"You have deeply touched me by your vow. Mother calls it an imprudent vow but I am quite persuaded that you are most capable of such an heroic act. I find your efforts up to now quite sufficient, and I release you from your vow and beg you to munch a good number of little cakes without remorse, considering that will be done on my behalf, as was the case with the cherry tart." (Letter dated July 28,1842)
Sadly, their time together on earth was only to last for 11 years, as Frédéric died in 1853 at the age of 40. However, this loving husband, accomplished scholar, and founder of the Society of Saint Vincent de Paul left a precious legacy of love for his wife and for the poor, and was beatified by Pope John Paul II in 1997. His letters (although not his wife's) can be read in English here.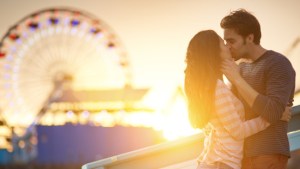 Read more:
The 3-ingredient recipe for a successful marriage
Read more:
The incredible Christian love story of King Baudouin and Queen Fabiola