And did you know more vocations come from the military than from any other group?
What can God do in your life with one Bible verse a day?
Subscribe to Aleteia's new service and bring Scripture into your morning:
Just one verse each day.
Click to bring God's word to your inbox
For many young people their first experience living on their own is a time of discovery, questioning, and growth. For young men and women in the US Navy, that experience can come with extra challenges, especially being at sea on an aircraft carrier for several months, or in an active conflict zone.  
Faced with these challenges, many members of the Navy draw closer to their faith and spiritual practices — or start searching. The US Navy is prepared for this. The Navy's chaplaincy corps has 800 chaplains from 100 different faiths, ready to provide spiritual and emotional support to officers and their families.
Father David Daigle is one of the 48 Catholic chaplains in the Navy. He also works for the Navy Recruiting Command. For him, being a Navy chaplain means having the opportunity to reach people in need of spiritual nourishment when they need it most.
"The majority of the military is between ages 18 and 24, [often] semi-catechized and looking for spiritual nourishment … there is no other ministry experience like it that reaches that many young people," Fr. Daigle told Aleteia.
Fr. Daigle recalled that during one of his postings, he and his unit had 96 hours leave over the Easter weekend. But Marine "ground pounders" — units who move on land — who were on exercises did not. Instead of going on leave, Fr. Daigle stayed with the unit on exercises to celebrate the Triduum. The unit camped in the open, under the stars and endured grueling conditions during their exercises. The only way for them to participate in the Easter Triduum was with Fr. Daigle celebrating Mass for them.
But his ministry is not limited to making sacraments available to Catholic officers.
"Ministry is caring for people," Fr. Daigle said. Often officers approach him wanting to talk about something going on in their lives or an issue they are struggling with. "Religion is not brought up. I'm there to take care of them. It's a different expression of my ministry," he said.
Commander Arthur Wiggins is a Navy chaplain who knows firsthand how important spiritual support can be while on duty.
Wiggins joined the Marine Reserves as a young man and went through basic training and then the Navy's law degree program. Fresh out of law school, he was posted to Hawaii where he served as a military lawyer — known as a JAG officer. Living on his own for the first time, he had to figure out many things for himself including, "what does church mean to me?"
A life-long Baptist, Wiggins attended services at the chapel on his base even if the chaplain was not Baptist.
The chaplains who led Sunday services also did community outreach projects during the week and were available to officers 24 hours a day, seven days a week. "I always saw church as two hours on Sunday and maybe one hour of bible study," he said. Wiggins was amazed by these chaplains' total availability.
When he was eventually transferred to Virginia, Wiggins got involved with a Baptist church off his base. He soon found, "I was enjoying ministry more than my job. The problem was the job payed," he said.
With the support of his Navy chaplains, Wiggins discerned that he was called to become a chaplain himself. He left his job as a military lawyer and enrolled in a seminary recognized by the Navy.
Speaking to Aleteia from on board the aircraft carrier USS Bush, Wiggins said ministering to people of all faiths has "expanded my view of where I was needed and how I could be used." He said, "I believe God has the ability to speak through me regardless of denomination."
The biggest challenge, according to Wiggins, is dealing with a generation of people who simply want love, security and to know they matter. Often those same people have forgotten they have a "spirit."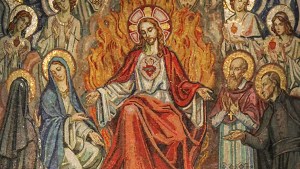 Read more:
These are the words Jesus said to renew devotion to his Sacred Heart
"We are physical, mental, and spiritual beings. Like muscles, if you don't exercise the spirit it becomes weak and flabby … I'm here to remind them they have one. If you don't, life can be a pretty strong adversary," Wiggins said.
Wiggins said Navy chaplains spend 10 percent of their time with "their flock" and about 90 percent of their time with people who don't come to services regularly or normally wouldn't go to church.
Typically there are three chaplains on board a carrier ship. Another five to seven Religious Program Assistants are also assigned to help chaplains. Together the team not only ensures the availability of worship services, but provides marriage preparation classes, suicide prevention training, 12-step programs, mentoring programs and ethics classes. They also run the onboard library and are responsible for community outreach programs and morale building programs.
Supporting officers' spiritual well being not only helps them face the challenges of military life. Fr. Daigle, who now works for the Navy Recruiting Command, said there are "more vocations out the military than any other group."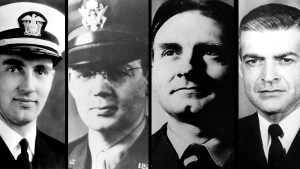 Read more:
4 Heroic military chaplains who died in battle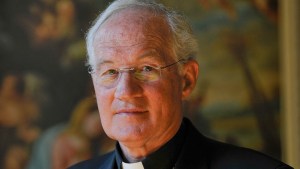 Read more:
Catholic, Orthodox, Protestant: All are Christians and all are being martyred