Embracing the cold weather might keep you healthier this winter.
In college I spent a semester in Rome with our school's study-abroad program. It was the fall semester, so we arrived to a hot, sticky Roman summer that quickly gave way to cooler and cooler temperatures. By November, my friends and I were investing in hats, mittens, and scarves — accessories we didn't need back home in Dallas.
That's not to say it didn't get cold in Dallas. It did — in fact, the year before we went to Rome it had snowed so much that school was canceled for three days in a row and we spent hours outside, using cafeteria trays as makeshift sleds and propelling each other across the frozen rugby field. We didn't have gloves or hats then, either — so when we got cold we just ran inside, warmed up in the heat, and then went back out again.
In Europe, buildings are rarely climate-controlled. Homes don't have central air or heat, and even if a family has a window A/C unit, they don't run it very often — and never overnight. Italians believe that dramatic temperature changes (like walking inside a 70 degree building on a 40 degree day) make you sick — and interestingly, it looks like they might be right. In fact, embracing the temperature of the season and allowing your body to acclimate by spending time outside might be the best thing you could do this winter, according to several studies compiled by Accuweather:
Winter exercise boosts immunity during cold and flu season. A few minutes a day can help prevent simple bacterial and viral infections, according to the Centers for Disease Control and Prevention (CDC) … Regardless of exercise, studies have shown that being outside in cold weather can transform white fat, specifically belly and thigh fat, into calorie-burning beige or brown fat. Brown fat's purpose is to burn calories to generate heat. Brown fat is often referred to as the "good" fat because it helps to burn rather than store calories. A 2014 study published in the Journal of Clinical Endocrinology and Metabolism, showed people have more genetic markers for brown fat in the winter than during the warmer months. This could signal slightly more calorie burn in the winter as the body insulates itself.
I will freely admit that while I am a huge fan of nixing the A/C in the summer and spending as much time as possible outdoors, winter is a different story. I do not love being cold. In fact, I hate being cold. But that one Roman winter was the only winter I can remember where I didn't get sick. No yearly bought of bronchitis or flu, but also not even a cold. Not a single sniffle … nothing. And while I gained a few pounds, I certainly didn't put on the weight I would have expected from a diet composed almost entirely of bread, pasta, and Italian pastries.
Training outdoor boot camps this winter is going to be an interesting experiment in cold-weather acclimation and immunity boosting, but it makes sense to me that allowing our bodies to acclimate to the seasons would keep us healthier than falsely adjusting our indoor climates to more comfortable temperatures. After all, every day more discoveries are being made about the way nature is designed to boost our health and well-being — if only we'd get out of the way and let it.
So this winter, skip the gym and exercise outside — you just might end up healthier and happier.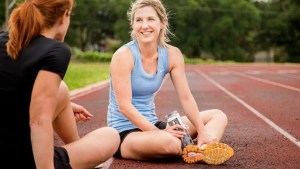 Read more:
Changing up this one thing in your workout routine will make exercise seem easier