And it seems that no patient is too young.
A video of Tony Adkins, a physician assistant at the Children's Hospital of Orange County's neurosurgery department, has been doing the rounds on social media for his unusual way of bringing a smile to his young patients' faces.
The doctor's patients come to him with serious conditions, often restricting their movements. Yet the Californian native believes that this should not prevent them from being kids and having a little fun. So with a little help from his young patients he selects a tune and starts dancing, with the children joining in, no matter their limitations.
Among his many patients is 9-year-old Tony Sarkis, who suffers from spina bifida — a condition affecting the spinal cord. A visit from the doctor gets Tony out of bed, doing a little dance, with the help of a walker. His mother describes Adkins as his "medicine," with his unusual methods motivating her son to walk again, and most importantly, to smile!
"Tony lightens up every room he walks into. A kid that hasn't smiled in days, smiles," says a fellow nurse in an interview with The OCR. This is all-important to the doctor who states in the video: "I don't want my patients to lose the magic of childhood."
Although the doctor seems to be taking his vocation to a whole new level, he "couldn't ask for more," as he shares in the interview. It's enabled him to combine his passions for medicine, kids, dance and music. His motivation stems from growing up in difficult circumstances where "he's seen the bottom." Yet, by turning his life around, his big dose of positivity seems to do more than a dose of morphine. And the reason for his infectious outlook on life? "I know every day is a blessing and a day to rejoice," he shares, with a little tear in his eye.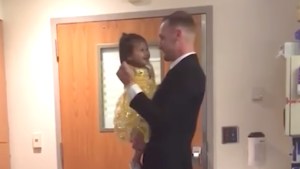 Read more:
Dad celebrates his daughter's last day of chemo with a special dance (Video)