As I tell my kids, you have to fail so you can learn how to succeed.
What can God do in your life with one Bible verse a day?
Subscribe to Aleteia's new service and bring Scripture into your morning:
Just one verse each day.
Click to bring God's word to your inbox
Ten years ago, I was eight months pregnant with my second daughter and waiting anxiously for an acceptance letter from the MFA program at the University of Nevada, Las Vegas. We had moved to the desert so my husband could begin working toward his doctorate, and I was anxious to continue working toward my master's degree.
Unfortunately, the letter I got was not an acceptance. I was shocked, stunned, and ultimately defeated by that rejection. I never applied for another MFA program. I never finished my master's degree. Truth be told, the number of poems I've written since then can be counted on one hand.
But fast forward 10 years later, and the baby girl I carried then is at my side now, helping me write a Camp Gladiator workout. She laughs when I show her what a no-handed burpee looks like and says I should make my campers do "20 … no, FIFTY!!" The juxtaposition between 10 years ago and today is striking — much like this video.
We should actually be extremely grateful that some things don't work out the way we once wanted them to … Success is not built on success. It's built on failure. It's build on frustration. It's built on fears that you have to overcome. Sometimes it takes a good fall to really know where you stand. Every time we think we're being rejected from something good, remember — we're just being redirected to something better.
There's a lot of truth here. The video is superficial, but these words aren't. What you don't see in the video is the fear, doubt, frustration, and even despair that accompanies failure and rejection. What you also don't see is the moment that despair transforms into determination. It's not a magical transformation — it's a choice. The choice to keep going, to find something different, something better … and the hardest choice of all: to risk going through that failure and rejection all over again.
None of us take a risk without fear. It's not human nature to do so. But true courage is acting despite your fear, and choosing to believe that this failure, this rejection, won't last forever.
I never made that choice with my MFA. I let that first failure define me instead of choosing to rise above it. I could have made a different choice, and maybe today my life would be different. Maybe I would be writing a book instead of writing workouts. I believe I would have loved doing that.
But that's not the path I took. Years later, I began to get serious about physical fitness. Unlike writing poetry, it wasn't something I had done my whole life. I didn't know if I would be any good at taekwondo, but I knew I loved it — so I kept going. I carved a new path in life and took a risk when I decided to pursue the chance to become a Camp Gladiator trainer. I didn't know how that risk would end, but I knew one thing — if I failed, I would survive it. This time, I wouldn't let rejection keep me stagnant for years.
I didn't fail, of course. But there have been plenty of challenges, doubts, and frustration along the way — and with each minor failure, I've learned something new about how to succeed. So while it's true that a door that doesn't open for you might not be yours, it's also true that you might have to carve your own door.
Just watch out for splinters, 'k?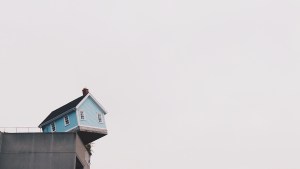 Read more:
Failure is the condiment that gives success its flavor.