"Protect your joy" is Pope Francis' exhortation to pregnant women.
Most of the time, motherhood is a joy. The child is wanted, desired, and joyfully expected. His or her birth brings immense happiness, and it marks the beginning or the growth of a family. The happy occasion carries with it dreams and projects for the future, and it fulfills the parents' desire to become a father and mother.
But in the midst of this enthusiasm, parents can experience moments of doubt, perhaps about their ability to raise a child, the strength of their marital relationship, or financial or medical concerns. It may also happen that others, through inappropriate remarks or derogatory comments ("Another one? You do know how that happens, right?" "As if the world population weren't already too large …" "Are you sure that's a responsible thing to do, given your financial situation?") can tarnish your joy. Finally, it is possible that a pregnancy isn't immediately a cause for rejoicing, because it's at a difficult time, or because of health complications, or because it was unplanned, or because it happened in traumatic circumstances.
And yet, in the Apostolic Exhortation Amoris Laetitia ("The Joy of Love") the pope invites pregnant women to rejoice: "Don't let fears, worries, other people's comments or problems lessen your joy at being God's means of bringing a new life to the world," says the pope (Amoris Laetitia, paragraph 171). He urges every woman to rediscover the inner joy of maternity, and he has good reasons for doing so …
The inner joy of motherhood
The joy the pope speaks about is not a selfish feeling of expecting a child for one's own interest, happiness, or self-fulfillment as a mother. It's the joy of participating in a special way in God's ongoing creation of the world. In every pregnancy, like Mary's, every mother works with God to bring about the miracle of a new life. This awareness of being a co-creator with the Almighty brings real joy.
Even in those cases when the circumstances are difficult, or even tragic, we can trust that God can take this new life and work miracles with it. Every new life is a world of opportunity, created in God's image and likeness, capable — with His grace— of transcending the worst that the world can throw at us. Every human being, whether their life on this earth is short or long, lived amidst wealth or poverty, full of joy or suffering, is capable of heaven: an eternity of happiness in God's presence, which is what God wants for each and every person. Being with God forever will wipe every tear from our eyes, and more than compensate the rough road of earthly life. Every pregnant woman — every single one — helps give her child that opportunity, by participating in giving her child life. That is a reason for joy.
Every woman has the capacity to transmit this joy to her child
The child in his mother's womb perceives this inner joy. He perceives, albeit implicitly, that he is loved and desired for his own sake, and not as a solution to a personal concern. This maternal joy is beautiful because it is turned toward the other, both to God and to the child. The pope invites us to "try to experience this serene excitement amid all your many concerns, and ask the Lord to preserve your joy, so that you can pass it on to your child" and to "join in Mary's song of joy: 'My soul proclaims the greatness of the Lord and my spirit exults in God my Savior, for he has looked with favor on the lowliness of his servant' (Lk 1:46-48)."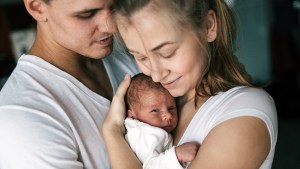 Read more:
Why we need to protect motherhood as if its endangered
Read more:
Why we need to be grateful for the sorrows — and the joys — of pregnancy