These easy and creative ideas can change your on-the-way-to-work time into the best time of your day.
I had to chuckle while driving down a highway in the Washington, D.C. area when I spotted the vanity plate of the car in front of me: "ILATE2." I had been secretly wishing that car would speed up because I was … late, too.
But what if my morning commute weren't about rushing and stressing, but about peacefully recharging my soul's batteries while gliding along at 60 mph … okay, more like 40 mph?
Wouldn't that be wonderful? And no, it's not impossible! Here are some ways to make your morning commute not only less stressful, but positively renewing and refreshing. And remember, with Bluetooth, all things are possible.
1. Get inspiration from Catholic podcasts
Every year, there are more Catholic podcasts, and more and more of them are geared toward women. The "Do Something Beautiful" podcast, by former model Leah Darrow, shares inspiring conversations about guests who've given their lives or their time to God.
"Thriving in the Trenches," with Meghan Schrieber – mother of six, athlete, interior designer, and speaker (what could she possibly know about life, right?) — and Becky Carter (a mother of five and a "revert" after 17 years away from the faith), invites a fascinating range of guest speakers who talk about a wide array of issues, from the "father wound" to the sexual revolution to parenting.
Interested in learning a bit more theology, but in a fun and enjoyable way? The "Catholic Stuff You Should Know" podcast might be for you. It's run by four priests with a good sense of humor and a shared passion for Catholic truths.
For Catholics who just want a daily dose of Scripture and a structured time to pray, the "Pray As You Go" app offers 10- to 13-minute prayer sessions for every day of the work week, plus a weekend session. It combines music, Scripture, and reflection questions to help listeners reflect on God's word and develop their own prayer. As the website notes, it is "not a 'Thought for the Day,' a sermon, or a Bible study, but rather a framework for your own prayer."
2. Listen to spiritual reading from an audio book
If you're like me, you have a long list of books you've been meaning to get to, but limited time (and energy) to read them, especially after staring at a computer screen all day. No matter your faith tradition or preference, your list of preferred spiritual books is probably available in audio book format, possibly as an Audible book.
Audible is available for a monthly subscription of about $15 per month, but some books are free – just check under the "audible audiobooks free" category – and classic books are often very cheap (as in 99 cents). If you prefer not to do the subscription, you can also buy individual Audible-version books, which are usually around $10 to $25 each.
Why not check and see if any of your Amazon wish list books are available in audio format?
3. Pray the Rosary with or without help
With or without audio help, you can pray the Rosary on your way to work and invite Mary to come with you. It's not hard to stay focused on the mysteries if you plunk yourself in the slow lane and focus on keeping a steady pace, rather than weaving in and out of traffic in a mad rush.
If you'd like to pray with a recording, the Catholicer Beads is a free app that leads you through the Rosary. Learn more about it here. The iRosary app (available on Apple) is also a good choice.
4. Listen to spiritual music
There is nothing like music to put us in a different frame of mind. Why not be more intentional with the type of music you listen to in the morning? It's easy to tune into the radio and get stuck with an earful of adolescent heartache or oonf-oonf-oonf primal rhythms, but sometimes the soul calls for more depth and substance.
Your own faith tradition can guide you here, but one Catholic musician to consider is Audrey Assad. Her latest album, released on iTunes on February 23, 2018, is titled "Evergreen."
Hillsong Worship can help put you in the praise and worship frame of mind, which is a great way to start the day.
5. Enjoy the silence
Silence is vastly underrated, and we often think of it as a kind of empty room that needs to be filled. But what if your car became your chapel of silence every morning, and you became ever more intentional about living that space of peace and quiet with God? After all, once the kids are where they need to be, the morning commute can often be the most peaceful and undisturbed moments of your day. Why ruin it by fretting about all the things on your to-do list? All that stuff can wait. Better to just let your soul breathe and open your heart to God.
Modern life is frenetic, rushed, an heavily packed with noise and "things to do." What we need is negative space, the freedom to just be, and the willingness to be still in the presence of God – even in a moving car. So give yourself permission to simply do nothing in your morning commute except to put yourself in God's presence and lean your head on his heart.
Rushing or not rushing is up to you. But will getting to work five minutes earlier really make a lasting difference in your life? Or will 20 minutes of peace, of intentionally lifting your heart to God, and of letting the silence heal you make that lasting difference?
It's not that we don't have time … it's often that we don't usually recognize it when we get it! Why not take the commute as a gift and turn that dead time into living time … a space of encounter between yourself and God?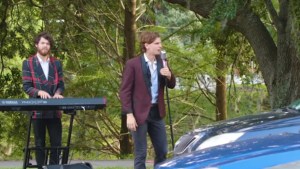 Read more:
If only all of us were serenaded like this during our morning commute