Wintertime isn't a beautiful season for everyone ...
The season of snowflakes, hot cocoa, and Christmas is a beautiful time of year, but for many it's also a time of great difficulty. The "winter blues" are a common problem, with many people experiencing more depression and anxiety, as well as loss of energy and motivation — in part due to not receiving enough vitamin D.
If you feel those winter blues coming on, it's important to care for yourself spiritually, as well as physically and mentally. Here's a simple prayer to get you started…
Heavenly Father, You are the source of all my happiness and peace, I know that You care for me in all things and that You never let a moment pass from me without Your loving presence. When sadness, exhaustion, and anxiety invade my life, please make Your presence known to me in a special way and to send the Holy Spirit to comfort me in my suffering. I ask that You be with me today to care for me as my Father. Please grant me the grace to remain gentle with myself, patient with those I encounter, and hopeful in prayer. Allow me to keep myself always in Your presence today, especially when I feel most alone. Thank you, Father, for the loving care You show to me always. Amen.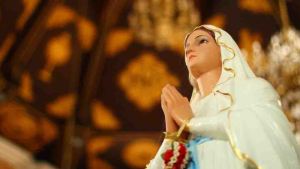 Read more:
The beautiful devotion of the three Hail Marys