What seems frightening has already been conquered. We should "fear" something else ....
This is the time of year for fear. The attendant accoutrement of the culture's celebration of Halloween all have a spine-tingling quality: horror movies filled with blood and gore; haunted houses and other attractions designed to scare the daylights out of us; spooky costumes that have such pleasant features as an arrow through the head (not in the funny, Steve Martin kind of way). The experience of fear becomes something we actually seek out.
But the fear we seek out is a safe fear, the fear of the haunted house—we might be startled or disturbed by a sudden loud noise or scary scene, but we know we aren't actually in danger. That's the deeper sense of Halloween, or the eve of the Feast of All Hallows—All Saints. We need not fear demons or death or sin, because Christ has conquered all. His saints are those who have lived out that life of trust and faith. We need fear nothing because of Christ.
Despite his angelic powers, we should not fear the prince of this world, for Jesus tells us he has overcome the world.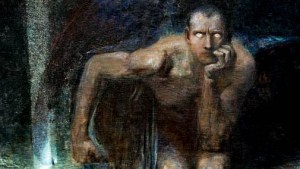 Read more:
How the devil does (and doesn't) tempt you
But, according to Scripture, you know whom we should fear? God.
As samples from both the Old and New Testaments:
"It is a fearful thing to fall into the hands of the living God." (Hebrews 10:31)

"The fear of the Lord is the beginning of wisdom." (Proverbs 9:10)
Such phrases confuse us. Isn't God our loving Father, who calls us to eternal beatitude with Himself? Why should we fear Him?
As is often the case, it's helpful to remember that the Scriptures were not written in English, and that deeper meanings can be found in we look at the original languages used.
The Gospel of Luke gives us an interesting clue. We see usages both of our normal understanding of fear and of the fear of the Lord—and they use the same word, phobos. When Zechariah sees the Archangel Gabriel, "fear fell upon him" (phobos epepsen ep auton), and the angel tells him "Be not afraid" (me phobou). A related word is used in Mary's Magnificat, when she says that God has mercy on "those who fear him" (phoboumenois).
The same word is used in the Greek translation of Proverbs: "the fear of the Lord" is phobos Kyriou. But of course, the Old Testament was not originally written in Greek, but in Hebrew. The Hebrew word is yirat, which in the Old Testament is almost always used to refer to fear "of the Lord," and is often translated as "reverence." Likewise, the Greek word phobos means both "terror" or "panic flight" and "reverence" or "respect." But what is the connection between these two ideas? Why would we use the same word to convey both terror and awe?
Think of your relationship with your parents. Growing up, you fear them in a certain sense—when you break a lamp while playing baseball in the living room, you fear the punishment that will follow. But you also have a deeper fear: the fear of hurting the ones who love you and whom you love, the fear of damaging your relationship with them. This is the difference between what the tradition calls servile fear and filial fear. The former is more like terror, while the latter is more like awe or reverence.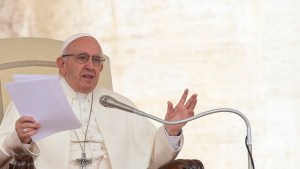 Read more:
Scarred by your parents? Pope explains why you should still honor them
The effect is magnified when we consider our relationship with God. To be aware that we are not the creators of ourselves; that we receive everything from God; that we have less control of our lives than we like to think; that we even exist only because God holds us in being at every moment of our lives—this is a fearful thing. It's like opening your eyes and realizing that you're suspended over a canyon by a bungee cord. The cord is secure, it's holding you, you're safe, but you're completely at its mercy.
Only when you understand the truth of this can you live your life as you ought. Free of the illusion that you are in control, you are now wiser. And in that moment you have the choice to trust God or try to flee. But imagine how successful you would be trying to escape while hanging in mid-air.
Realizing our circumstances could make us afraid, or it could put us in awe of the God who created and called and redeemed us purely out of His own goodness—not out of any need, but simply out of love.
When we have this kind of reverence before God, we can begin on the path to loving communion with God. Because fear is only the beginning of wisdom, but not the end. As the First Letter of St. John reminds us, "Perfect love casts out fear." (1 John 4:18) God calls us to love; but first, we must pass through fear. That love can carry us through the worst moments of life—and the spookiest of Halloweens.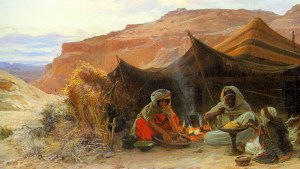 Read more:
How a summer with the Bedouins taught me what's in my name