First, be confident in what you have already taught and modeled ...
Sometimes as parents we become alarmed when we see that, at a certain age (often beginning during adolescence), our children turn away from God and walk away from the faith in which they were raised. In our great concern, we might feel tempted to "force" them – instead of cleverly inviting them – to go to Mass or on retreats, for example, or to pray.
Too often, this turns out to be an erroneous approach that the vast majority of parents have tried. And I say erroneous because, although we may not realize this fully – because it's likely unconscious – the temptation to force them doesn't usually come from our love, but from fear. It often reflects a loss of confidence in the fruits that will come from the faith formation we gave them throughout their childhood. Sometimes, it also reveals our ignorance as parents about some important things to remember.
Although each adolescent is unique, the truth is that almost all of them are searching for their own identity as individuals, and to achieve some independence. They're also looking for models to follow. It's precisely this which I wish to emphasize because here lies the key to the development of their spirituality.
Religion is the means for developing a lasting bond between a person and the Trinity. Despite often feeling that they can do everything on their own and don't need help, adolescents also experience the need to be connected with that "Other" who created them. Given that adolescence is a period of life characterized by intense searching, we can take advantage of that to show them that God is that other important "role model" to follow.
Why is it so important for young people to discover that connection with their Creator and Father, and for parents to make their accompaniment in this faith journey prudent, patient, and loving rather than punitive? For several reasons. During adolescence, it's common for there to be an age-appropriate distancing or separation between parents and children. So, this is an excellent time for our children to grow in their knowledge and confidence that there is a "Supreme Being" who has an even deeper love for them than their parents do, and that He is known precisely through the path offered by our Faith.
Quite often, due to cultural conditioning or out of embarrassment or fear of what others might think, many adolescents prefer not to talk about God. Yet, once they discover that divine love that makes us truly happy, they tend to take off the mask of fear, and young people become the most intrepid of evangelizers when it comes to sharing their faith with others.
The fact is, for many people their spiritual journey and this encounter with God has helped them come to know and love themselves as God does. That makes it easier for them to love others that way, too.
What to do as parents
Parents are vital to laying the foundation and aiding the development of their children's spiritual growth and religious maturity. It begins in childhood and the fruits are harvested in adolescence and adulthood. So be exemplary!
Few parents fully realize that for their children, they are "God's representatives on earth." Through them, through their example and the congruity between belief and behaviors of their lives, their children will come to know, recognize, and draw close to God. Or, sadly, the opposite can happen if the young among us can't experience God due to the incongruity of their parents' lives.
Adolescents tend to have a keen sense of justice, so they're constantly "judging" their parents' congruence or lack thereof. What they see will influence many of their religious choices and ethical decisions: they will either want to be like the adults they see, or not. This is not to say that parents are the only ones responsible for their children keeping or losing their faith; ultimately, there are many factors than can come into play, and each person is responsible for their own reaction to God's grace in their lives, which can come in many ways. However, parents' example is a powerful factor.
We must present the love of God and the faith as truly attractive. Let our actions speak of God even when we don't pronounce His name. May our children come to know a loving, merciful, and just God – and not, as too often, happens, a merely punishing and punitive God.
Parents: let's untie, as it were, the hands of God so that He might act freely according to His will. Let's not spoil the plans He has for our children. Don't be afraid. Remember, they are first and foremost children of God, and if He entrusted them to us it was precisely because we have the God-given ability to guide and direct their souls to Heaven.
God's timing is perfect – though generally it doesn't match our timetable. Our children are likely at some point to turn away from the Faith, but our prayers and example can help them come back.
Let us speak now more than ever to God about our children, and get down on our knees to pray for their conversion, pleading: "Lord, make my child feel a deep need for You!" Amen!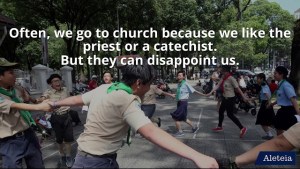 Read more:
How to teach your children about God