Sometimes there's more peace in losing.
"Is this runner challenging me to a side race?!" I was rounding out the last half mile of a 5K race when another runner sidled up beside me, her hurried footsteps pounding the pavement.
I had noticed this runner earlier because she had kept pace with me throughout much of the 5K course. She especially stood out, however, because of the way she was staring down all of the other runners within her line of sight. Considering that she and I were among the back of the pack for most of the race, such combative competitiveness seemed over the top.
Amused by this runner's tactics at a charity race, I thought that while I was there to beat my last 5K run-time, she was there to beat any runner she could outrun by a toe-length. Suddenly, this runner locked eyes with me, looked over to the finish line in the distance, and then locked eyes with me again, apparently challenging me to a two-person "side race" for the remaining half mile.
As my position at the back of the pack suggests, I'm no speedster. In fact, I would sooner compare myself to the measured tortoise than the nimble hare. Given my unimpressive velocity and the 100+ other runners this runner could have challenged, I  shook my head "no" at her invitation to a side race. She scowled at my refusal. She then leaned forward and began pumping her arms strenuously in what I can only describe as the footrace equivalent of revving her engines. 
I examined my options. It felt wrong to reduce my already-gradual pace just to get away from this runner. Also, speeding up would throw a monkey wrench into my controlled breathing and heart rate. Likewise, the footpath we were running on offered no real escape, with a lake to our right and a stretch of uneven, unpaved ground to our left. 
Rather than run ahead of or behind this runner, I chose to ignore her and continue jogging at my steady pace. I focused, instead, on my purpose for running that day — to complete this 5K in less time than it had taken me to complete my last 5K almost a decade earlier.
I flashed back to that period in between. I had welcomed a third child in that time and was overjoyed with the many blessings in my life. I was also overwhelmed by how much less time and energy I had to focus on my physical health caring for three children. I recalled worrying about my increasing waistline, decreasing physical endurance, and the host of ailments I was risking by my consistent lack of exercise for several years.
I also remembered the day when I finally determined to reclaim my physical fitness. No more using motherhood as an excuse to let my health slide! That determination pushed me to get creative in stealing time to work out. As if watching a low-budget workout DVD, my memory flashed scenes of me doing shaky lunges in the kitchen while the kids ate breakfast; jumping rope awkwardly in the hallway while they watched Dora the Explorer; and timing dinner precisely so that there would still be light out to go on a breathless run while my husband cared for the kids.
How empowered I felt when my waistline shrank, my endurance returned, and I could run a mile again, then two and three, without gasping for air. I was proud of myself for having met my physical fitness goals at a time when they had seemed so out-of-grasp.
As I reminisced over milestones met, the loud grunts emanating from the runner jogging alongside me jolted me out of my thoughts and back onto the 5K blacktop. The runner continued to keep pace with me, now angrily lurching her legs forward, her face periodically wincing in pain.
The longer we jogged side-by-side, the more I began to see this woman with fresh eyes. I saw that she was several years older than me and less physically fit. She was also choosing to heave in air instead of simply slowing down to regain her breath. I saw that this woman wasn't just a bully trying to intimidate those around her; she was someone trying to achieve her own goals, no matter how inelegantly she was going about it. I also saw that, as important as it was to me to reach my goal of topping my last 5K run-time, it was equally important to her that she outrun me, her chosen "opponent."
For the first time that day, I contemplated my spiritual fitness when a certain Gospel verse came to mind: "Do nothing out of selfishness or out of vainglory; rather, humbly regard others as more important than yourselves … " (Philippians 2:3). I felt a seed of sympathy for this woman take root and grow until it blossomed into an urgent sense of compassion.
I reduced my pace enough to let the woman breathe easier as she continued to jog alongside me. I crossed the finish line a step behind her. She pumped her fists into the air unceremoniously. "Good race," I said, sincerely. The woman's boastful sneer momentarily melted into a sheepish half-smile. We parted ways in silence and walked in different directions to our cars.
I ended up falling short of beating my last 5K run-time that day, but I couldn't have felt more at peace with the result.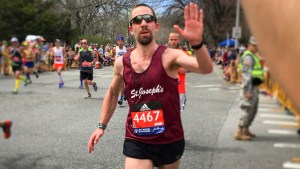 Read more:
The marathon-running priests