It's good for developing some life skills, but there's a deeper purpose as well.
"That was so scary I don't think I'll ever sleep again … who wants to help me throw my bed out the window?"
With that goofy joke, and a grin on my face to match, I ended the evening's first tale of terror. Wide eyes gave way to silly laughter—and a rapid succession of
"What next, Dad? How about 'The Man Who Sang to Ghosts'?" "No, 'The Phantom Hitchhiker'!" – "We haven't heard 'The Window' for a while."
They love it – and so do I. So have kids and parents throughout the ages. Spooky stories, ghost stories, campfire tales – call them what you will – they show up all over the world. From Homer in ancient Greece, to the ghost of Hamlet's father, to the three spirits who haunted – and reformed – Ebenezer Scrooge. There's even a ghostly tale in the Bible (remember the story of Saul and the Witch of Endor, in 1 Samuel 28?)
So if the Holy Spirit could tell the tale of a witch and a spirit, and the danger that comes of meddling with the mysterious unknown – I figure I'm in good company.
Read more:
The demonic presence behind real-life wizards, witches and warlocks
Awareness & catharsis
"Satan has very little trouble with those who do not believe in him; they are already on his side," wrote Archbishop Fulton J. Sheen (Life of Christ).
In warfare, it is critical to know one's enemy. Scary stories can give us glimpses of our enemy and his tactics. They can be great cautionary tales. Consider how a story like The Exorcist lays bare the fact that the Ouija board is not a toy; and the classic tale of "The Golden Arm" (one of Mark Twain's favorites, by the way) might be tagged with the moral: "Greed makes for sleepless nights!"
Evil is a part of our common experience, as unavoidable as death and taxes. But imaginary evil is typically less threatening. It can scare us, frighten us, maybe even bring us to a momentary paralysis of terror – then the tale is over. Phew, it's only a story.  And after all—deep down—we already knew this. Feelings of relief mingle with the fading tenseness of fear. And we have grown a bit stronger. Call it a "flight simulator" for piloting through the horrors of life.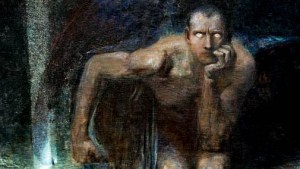 Read more:
How the devil does (and doesn't) tempt you
The Greek philosopher Aristotle discussed the effects of drama in his classic work Poetics. He used the term "catharsis" to describe how the "terror" and "pity" that one feels in experiencing something frightening on stage (or on the screen, or around a campfire) can purify these emotions in real life, and so strengthen us morally. That's the power of scary stories from a father's perspective: I control the simulation. In my stories, evil is scary – but not too scary! And in the end, it never wins. Just like in real life. My kids won't get that guarantee from the horror put out by modern society.
Good stories make good storytellers
There's also a social dimension to spooky stories. They foster creativity, originality, inventiveness. There's an unwritten code about ghost stories: Only the good ones live on. Boring stories get buried, and don't rise from their graves. So the storyteller has to learn to tell good stories. I love the line at the end of the Goosebumps movie, where R.L. Stine teaches a creative writing class: "Every story ever told can be broken down into three parts: the beginning, the middle, and the twist." Aristotle knew that one. So do my kids.
Lastly, oral stories don't get pinned down, like butterflies, onto paper. They evolve, they transform. A child with a good story in his mind has more possibilities than one with a bucket full of Legos. No two tellings are quite the same. That's the beauty of it – the challenge to make the story scarier, more surprising, more believable, to add a dash of humor, to make it original, to make it my own, to make it our own.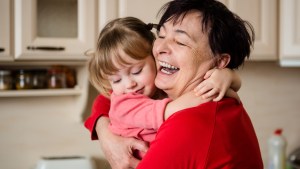 Read more:
I've been witnessing intergenerational joy, and it's changing me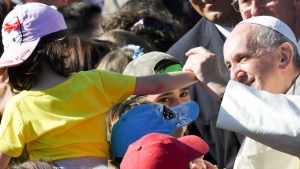 Read more:
Pope: We must let children play! To play is to dream …