Here's what you need to know the next time you visit a cemetery.
Catholics are encouraged to visit cemeteries, especially in the month of November, a month traditionally dedicated to the Holy Souls in Purgatory. It presents an opportunity to visit the graves of deceased family and friends during a time in the northern hemisphere when the natural world is experiencing its own "death" with the seasonal change from fall to winter.
Furthermore, an indulgence, applicable only to the Souls in Purgatory, is granted to the faithful who devoutly visit a cemetery and pray for the departed in November. The indulgence is plenary each day from the 1st to the 8th of November; on other days of the year it is partial.
Read more:
A Primer on Indulgences, Part 1
All of this reminds us of our own deaths and how one day we will suffer the same fate. This is a good spiritual theme to meditate on, as it can jolt our own spiritual life back on track, inspiring us to use the time we have left to live a life united to God's merciful love.
When visiting a cemetery there are a few things to remember.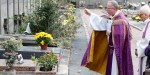 Read more:
A cemetery is truly "holy ground"