If we look at Mary through ancient Jewish eyes, we understand why she's Catholics' favorite intercessor.
Need an idea for Lenten almsgiving?
Help us spread faith on the internet. Would you consider donating just $10, so we can continue creating free, uplifting content?
Make a Lenten donation here
On November 1, Christians worldwide are celebrating All Saints Day.
For Catholics, the Virgin Mary is considered the greatest of all saints. Many even refer to Mary as "the Queen of Heaven." Though Mary lived 2,000 years ago, millions honor her and ask for her prayers daily.
Why do Catholics do this? Why make so much of Mary? After all, wasn't she just an ordinary Jewish woman?
That's what lots of people today believe. But as I show in my book, Jesus and the Jewish Roots of Mary, that's not what the Bible says.
Read a q-and-a on the book here: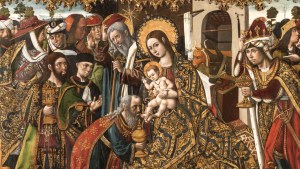 Read more:
If you want to love Mary more, find her in the Old Testament (this book will guide you)
Don't get me wrong. It's true that the Old Testament says the "queen of heaven" was the name of a pagan goddess.Some ancient Israelites even committed idolatry by offering sacrifice to her—and got quite a tongue-lashing from the prophet Jeremiah as a result! (See Jeremiah 7:17-18.)
So why do Catholics call Mary the "Queen of Heaven"? Isn't that idolatry too?
No. Because the Catholic Church did not get its beliefs about Mary from paganism. It got them from Judaism.
In order to see this clearly, you have to look at Mary through ancient Jewish eyes.
You have to look at Mary in light of what the Old Testament says about the Jewish Queen.
In ancient Israel, the king did not rule alone. There was also a queen. However, the queen was not the king's wife, but his mother. She was known as the "Queen Mother"—in Hebrew, the gebirah.
To get an idea of just how important the Queen Mother was, consider what the Bible says about Bathsheba, the wife of King David and mother of King Solomon.
When Bathsheba comes into David's presence, she bows to him as her king (1 Kings 1:15-16). But after David dies and Solomon her son becomes king, the tables are turned. Now, when Bathsheba comes into Solomon's presence, he bows to her (1 Kings 2:19)! The king himself honors his mother because she is queen.
But it doesn't stop there. King Solomon also has a "throne" brought in, so that his mother can sit at his "right" hand (1 Kings 2:19). Everyone knew what this meant. The Queen Mother was the most powerful person in the kingdom—second only to the king himself.
That's why when the Queen Mother asks a favor of Solomon, he answers: "Make your request, my mother, for I will not refuse you" (1 Kings 2:20).
What does all this mean for who Mary was, and how Christians see her today?
First, if Jesus really was the long-awaited Jewish King—the Messiah—then his mother was the Jewish Queen.
That's what it would have meant to a Jewish girl like Mary when the angel Gabriel told her that her son would "sit on the throne of his father David" (Luke 1:33). As mother of the new King, Mary would be the new Queen Mother.
It's also why the book of Revelation describes the mother of the Messiah as a woman "in heaven" wearing "a crown of twelve stars" (Revelation 12:1-2). The crown shows she is a queen, and the twelve stars symbolize the people of Israel.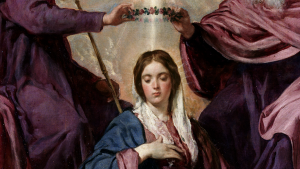 Read more:
We're called to join the army of this "Warrior Queen"
Second, if Mary is the new Queen Mother, then it makes sense to honor her. After all, "Honor your father and your mother" is one of the Ten Commandments (Exodus 20:12).
It isn't idolatry to honor the queen. If the queens of earthly kingdoms are honored and loved by their people, then how much more the Queen Mother of the Kingdom of God?
Finally, if Mary is the Queen Mother of Jesus' Kingdom, then she is certainly no ordinary woman. She is, quite literally, the most powerful woman in the universe. She is the true Queen of Heaven.
And Mary is still alive in heaven. (After all, we call it "eternal life"—not death.). As Queen Mother, Mary sits at Jesus' right hand. And, like King Solomon, Jesus will not refuse her requests.
That's why, since ancient times, Christians have asked Mary to pray for them. Consider the words of the most ancient Christian prayer to Mary we possess, written in Greek and discovered in the early 20th century on a scrap of papyrus:
"Under your mercy, we take refuge, O Mother of God. Do not disregard our prayers in time of trouble, but deliver us from danger, O only pure one, only blessed one." (Anonymous Christian Prayer, 3rd-4th century)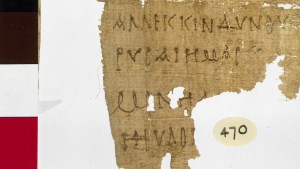 Read more:
One of the prayers Pope Francis asked for this month is the most ancient Marian prayer
Nowadays, we certainly live in troubling times. Dangers are everywhere, threatening the whole human race.
If Jesus really is the King he claimed to be, and Mary really is the Queen Mother, then it makes sense to ask her to intercede with her Son for us and for a world in need.
After all, she is the most powerful woman in the universe.