Here's how I now approach the digital clutter in my life.
I have a confession to make: I'm a digital hoarder. I have thousands of pictures that take up too much space across all my devices. I have drafts, and new drafts, and final drafts of projects published long ago. I have multiple versions of resumes and CVs, course syllabi from DOS days that I don't think will even open in an uncorrupted state. It's a mess, and I have no control over it.
The satisfaction I get when I clean my physical workspace by throwing away dusty scraps of paper with long-forgotten cryptic notes scribbled on them or lining up my pens and pencils after unceremoniously pitching the ones that don't work rivals Christmas morning. A clean desk frees me to create. Of course, that usually means I'll make a new mess along the way, but I can always go back to a cleaning session to recover that sense of freedom gain.
I wish I had that kind of control of the digital mess I've made on my computer, iPad, and phone. I think I feel comfortable throwing away a printed draft because deep inside, I know I have several versions backed up on my computer. I have no explanation for keeping bursts of photos on my phone.
It's a kind of clutter that might speak to some other deep-seated things such as FOMO (a fear of missing out) or the compulsion to document everything in my day. I realized I had a problem when an unplanned need to upgrade my phone had me paralyzed. The young man at the counter assured me they'd upload my pictures to their server and place them in the new phone. And then he suggested my husband and I go to dinner and come back because it was going to take a couple of hours. Gulp.
I had to examine what I was doing.
Decluttering has been the focus of my chores for nearly a decade, and I realized along the way that it isn't a one-time activity, but a mindset to clear away those things that weigh me down and hold me hostage. Why does this unseen digital clutter plague me if it's out of sight? The bottom line is not that I lack the space for it, but that accessibility — the finding of the pictures or documents I want becomes difficult because there's so much useless, unneeded, and poorly archived material to sift through before I find what I need.
I've taken control of my home space; I'm working on shedding weight that is physically hurting me, and I work on spiritual clutter through prayer and frequent reception of the sacraments, especially in the decluttering of my soul through the sacrament of Reconciliation. It's time I approached my digital clutter with the same methodical culling I've applied to other areas of my life. It's time to clean up my social media, delete the hundreds of pictures of random coffee cups and cat memes, and clear out those old files that are taking up space. And moving forward, I probably should disable that neat burst feature.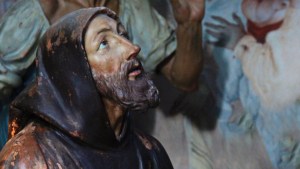 Read more:
3 Lessons about minimalism from St. Francis of Assisi