It's a popular practice among celebrities, so is there something to it?
Many celebrities, including Michelle Obama, Joan Collins, and Michael Cain, have attributed their happy marriages to a key practice: they keep separate bathrooms from their spouses.
Is there anything to this, though? Laura Petiford, LMFT, told Today that we should always be careful of seeking easy answers to a happy relationship. "The reality is it's always more contextual, much deeper, and highly reliant on what's important to those particular people."
Petiford says that for some couples separate bathrooms may be the sign of a "highly egalitarian" partnership and may also preserve a sense of mystery and romance in the relationship. Although there might not be a universal answer, therapists do recommend open communication about your bathroom habits and preferences. In other words, if you want your own space, you shouldn't be afraid to ask.
"There are no shortcuts," Petiford said. "Hard work and a lot of communication."
And let's acknowledge that the very question is probably something only middle-class and wealthier married couples can even consider. Many people live in homes with only one full bathroom and even if they would love to have separate bathrooms, it's not high on the priority list compared to putting food on the table and keeping a roof overhead. Married couples have managed to remain happy and committed without such luxuries.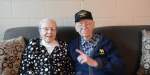 Read more:
WATCH: Three couples, each married for 60 years plus, share their secrets