There are many ways to invite the Blessed Mother into your prayer life.
With October 2018 in the rear view mirror, the month of the Rosary has come to an end once again. Hopefully you were encouraged to take the opportunity to enter more deeply into the Rosary, or maybe just to give it a shot for the first time. It's absolutely worth cultivating a devotion to the Rosary, or perhaps just a determination to pray it daily, whether or not it ever becomes your favorite prayer.
But the Rosary isn't the only Marian devotion there is. And for those who struggle with the Rosary, it can seem as though we're failing to love the Blessed Mother well. Fortunately, as powerful as the Rosary is, it's only one of many Marian devotions. If the Rosary isn't your cup of tea, or if you'd like to do even more than the Rosary, consider trying one of the many other ways to honor the Blessed Virgin Mary.
Physical reminders of Marian devotion are simple but powerful ways of honoring Our Lady. The Miraculous Medal was given the name precisely because of the many miracles associated with it.
More than just a necklace, the Brown Scapular is a Carmelite devotion that acts as a sign of Marian devotion as well as requiring those who wear it to be committed to lives of prayer, especially Marian prayer.
Wearing a Rosary or a medal of the Blessed Mother can remind you each time you put it on, touch it, or catch a glimpse, that the Virgin Mary is beside you, always leading you to her Son.
The Angelus is a prayer recited the world over at 6 a.m., noon, and 6 p.m. The prayer (whose text can be found here) is heralded by bells tolling from church towers, prompting duchesses and field hands alike to put aside their work and praise God once again for the Incarnation. It takes less than a minute and with a cell phone alarm (perhaps sounding church bells?) it can punctuate the day and call us back to prayer as it has for centuries.
Read more:
St. Luke got the greatest interview of all time
The Litany of Loreto is a beautiful, rhythmic prayer that celebrates many of the titles of the Blessed Mother. The text draws those who pray to meditate on Mary's role as Queen of Virgins, Seat of Wisdom, and Mother most amiable, among many others. Each title listed in the litany offers fodder for meditation on Mary's role in Christ's life and in ours.
Marian processions are held in many parts of the world to celebrate various Marian feasts and apparitions. In the United States, even a May Crowning procession is unusual, but for those who pray well through the use of their bodies it can be very powerful to stand and kneel and carry and march.
Consider asking your pastor if you can spearhead a Marian procession in the future, complete with Mary on a flower-bedecked bier and children singing Marian hymns.
Living the liturgical year is a beautiful way to turn one's eyes to Mary for each feast day and for Saturdays, the day traditionally devoted to the Blessed Mother. Kendra Tierney's new book, The Catholic All Year Compendium, describes different ways to honor Mary (as well as many, many other saints) on her many feast days, particularly useful for those raising children. Something as simple as wearing blue or having a special dessert on Marian feast days will teach your heart to delight in the Blessed Mother in a childlike way, which is exactly what we need.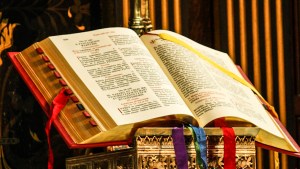 Read more:
A different prayer for each day of the week
The Little Office of the Blessed Virgin Mary is similar to the Liturgy of the Hours, the cycle of Scriptural prayers offered by all priests and religious in the Church. The Hours of the Virgin are a series of psalms, prayers, and canticles focused on the Blessed Mother and her role in the Church. Different texts are prayed throughout the day, as six different offices consecrate each day to Jesus through Mary.
Whatever your spirituality, Mary is your Mother. Whether you'd like nothing more than to pray a dozen rosaries a day or would be just as glad never to pray another, there are ways to invite the Blessed Mother into your prayer life. What other Marian prayers have been fruitful for you?
Read more:
Padre Pio prayed this prayer to the Virgin Mary every first Saturday