Despite all the naysayers, having children can make your marriage better in ways you didn't think were possible.
If you're not already scared of children, you should be — according to a countless pile of articles, workshops, and even wholebooks dedicated to the subject of "babyproofing" your marriage. Full Frontal Fatherhood articulates the assumption behind it all: "If you aren't prepared, having a kid can destroy your relationship."
Okay, it's true: if your marriage isn't strong enough to handle stress and sacrifice, then no, it's not going to handle babies and children very well, either. But let's not act like a child is going to drain the life and joy out of your relationship unless you brace yourself, strap on a bunch of extra armor, and muster up your defenses against the dangerous presence of new little baby in your house. Having children can make your marriage better in ways you didn't think were possible.
A lot of the fear around bringing a baby into a marriage centers around the sacrifices that you're going to have to make. The midnight feedings, the time you must devote, the worries … you're not about to hear me say those sacrifices are no big deal. But don't forget the flip side: the sense of relief and gratitude when when your husband gets up to take care of that diaper, so you can get your sleep, or the loud-and-clear message of support and understanding that comes through when your wife offers to read that stack of storybooks, so you have a chance to read your own book, for once. Remember — you're in this together. 
Every sacrifice comes with a unique opportunity to show love in a way that words never could. Suffering can breed resentment, but it can foster gratitude and love, too — if you let it. The sacrifices that come with raising a child give you near constant opportunities to show your beloved that your love is more than just words.
For another thing, no matter what you had in common before children, I guarantee you didn't feel as strongly about it as you'll feel about your children. Suddenly, your partner is the only other person in the world who loves that little baby as intensely as you do, the only other person who'd do anything at all for her. No other relationship shares a purpose as powerful as the love that parents have for the children they are responsible for together.
The whole idea of preparing for parenthood assumes that there's something you can do beforehand to prepare. But really, outside of having a stable relationship and being a decent person, there's just not much preparing that's possible. You learn parenting by being a parent. You learn to be patient and gentle and responsive and respectful and all the rest of it by practicing, and making more mistakes than you'd ever want to admit … and eventually, slowly, developing the virtue and skill you need. Of course you don't have what it takes to raise children before you have them. You've had no chance to learn! You learn along the way, like everyone else — and the best part is that you get to learn it together.
That doesn't mean that anyone is ready for children — sometimes you have some specific problems to work through before you're ready, and that's fine. But if you're just waiting till you think you'll be good at it, you'll be waiting forever.
If your relationship isn't good, children aren't going to magically fix it. Children are hard, and you should be reasonably sure you're up for the challenge. But raising children isn't hard like chemo is hard, where if you get anything good out of it, you're lucky. Raising children is hard in the way that learning to be an expert in a field that you love is hard. And yet, you don't see articles out there cautioning people not to pursue their dream of becoming a pianist, or a surgeon, or a astronaut just on the basis of how seriously difficult it is. Everyone understands that it's the joy of the work that makes it all more than worthwhile — it's time we started applying that attitude toward the work of raising children, too.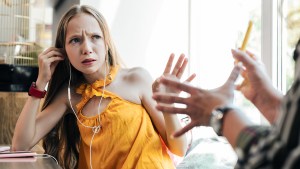 Read more:
Why raising teens is worth the headaches and grey hairs