It started with a difficult confession by an elderly passenger ...
Liseth Ortega, a young topographer, shared the story on Facebook in a very simple manner: A modestly dressed elderly woman – maybe 65 or 70 years old – flagged down the bus that would take her somewhere in Neiva, a hot city in southern Colombia. She was struggling to get up the steps, so the driver pulled the bus as close as possible to the sidewalk and helped the woman get in. The elderly woman sat next to him, but didn't pay the bus fare, which surprised some of the passengers who have seen people scooted off buses before for not having money.
After they were on the road for a while, the driver asked for the fare – 1,700 Colombian pesos, the equivalent of 40 cents or so in the US. But the poor woman, embarrassed at the thought of being chastised or booed by other passengers, addressed the driver in a quiet voice telling him that she had no money, and implored him to please take her to her destination for free.
One good act leads to another
To everyone's surprise, the man gave her a "thumbs up" allowing her to ride for free – and asked her to avoid walking through the turnstile once she reached her stop to avoid having the value of her bus fare deducted from his salary. Then suddenly and spontaneously, with any prompting, other passengers started pulling out and putting together a few coins to pay for the elderly woman's fare. The woman, who throughout the entire journey had remained silent, with her head bowed as if embarrassed or self-conscious, thanked them, slowly got off the bus, and got lost in the crowd.
The hero in this story is John Freddy Valenciano Plaza, a 27-year-old bus driver who lives with his mother and two sisters in a popular neighborhood of Neiva, the capital of the municipality of Huila. Ever since he was a teenager, Plaza had been interested in driving public transportation vehicles such as Bus #1075 on Route 8, which he was in fact doing the day he gave the humble woman a hand.
The post went viral
He had never been on television, had never been interviewed on the radio — much less ever dreamed that he would be praised by more than 50,000 people on social media thrilled to hear about his good deed. They spoke of him using a variety of compliments, from "true citizen," "exemplary driver" and "Good Samaritan" to "good person" and "awesome dude" – "buena papa" and "bacán," which areexpressions used in Colombia to refer to people who exhibit very special behavior.
His "fame," as he calls this unexpected moment he's living in the spotlight, immediately became known to his supervisors at Coomotor, the transportation company, and he was called in. Plaza came to the meeting expecting the worst, but instead of getting a "pink slip" indicating his firing or a reprimand detailing that the woman's fare had been discounted from his salary, he was instead awarded a diploma of honor, a special recognition, and the emotional applause of colleagues.
"This is the type of exemplary drivers we need in the company, those who with their good deeds and hard work highlight the mission we carry out daily. We want to congratulate John Freddy for this gesture and thank him for his good service," said Armando Cuéllar Arteaga, the company's general manager. Undoubtedly, it wasn't only a matter of giving due recognition to an altruistic action on the part of one of their bus drivers, but it was also aimed at using him as a role model in a workers union often criticized for its members' behavior towards the public.
Plaza's response to the honor was expressed with few words: "Above all, I want to thank God; then my family, the manager, the company, and Ms. Liseth … I became aware that my small deed had become widely known once all my friends and associates starting calling me and telling me about it."
The following day, he got up early to tackle his job as on every other day. His usual bus route passengers already know him and greet him as an old friend; those who hadn't seen or noticed him before, but recognize him now, look at him with admiration and thank him. He says his aim going forward is to drive a larger bus, but regardless of when that happens, he says, he wants "to serve others without expecting popularity or anything in return."
And what happened to the other main character in the beautiful human story retold by the young topographer Ortega? Nobody knows her name, where she lives, how she spends her days, or where she comes from — and whether or not she has a family or any relatives. All that's known about her is that her frankness in confessing her poverty served to reveal a man who became an instrument of generosity and solidarity to a woman as humble as he.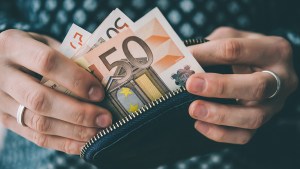 Read more:
Good things happen every day — even when you lose a wallet containing $9,500
Read more:
What Happens When You See the Results of a Good Deed You've Done