Thanks to drones, you'll see the Bridger-Teton State Forest as never before ...
Need an idea for Lenten almsgiving?
Help us spread faith on the internet. Would you consider donating just $10, so we can continue creating free, uplifting content?
Make a Lenten donation here
It might be a bit early to start thinking of summer vacation plans, but a new video series by the Parks Department might have you working on your itinerary sooner than expected. If the Bridger-Teton State Forest has always been on your bucket list, you'll definitely want to check out this video.
The 3.4 million-acre expanse located in Western Wyoming is the third largest state forest outside of Alaska, and it's the first in a series of videos shot partially by drones by Your Forests Your Future, a project of the US Parks Department.
Our national forests are one of country's greatest resources, and this video series aims to draw attention to that fact, as well as encourage more people to visit and see God's glorious creation for themselves. In addition to being a habitat for wildlife and supplying lumber and other resources for our economy, forested landscapes contain more than half of our nation's surface water, and half of our citizens in the West get their drinking water from a national forest.
Bridger-Teton comprises a large part of the Greater Yellowstone Ecosystem. It's the site of the famous Sleeping Indian Mountain, in Jackson Hole, Wyoming. But you don't have to travel halfway across the country to visit a national forest — the US has 154 areas designated as protected forest land. Most of them are situated out west, but there are a number of them scattered along the Eastern Seaboard as well.
You can find a list of US Forests here.
In the meantime, view the natural wonders of Bridger-Teton as you've never seen them before in the video below: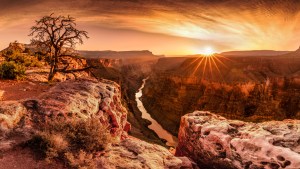 Read more:
5 Natural wonders you need to see in the United States