Pope Francis considers how peace is built one brick at a time, beginning with families.
Peace in Yemen begins "at home, in our institutions," Pope Francis said during a homily at Casa Santa Marta this week. And that means building peace in our families first.
Think, he said, about how many times rivalries begin among siblings due to conflict over a parent's inheritance. This is something we see every day, the pope lamented.
Instead, Christians need to follow Christ's example, giving without expecting a return.
"Building peace with small gestures paves a path of harmony throughout the world," he said.
When we read of wars, the pope reflected, of the famine of children in Yemen caused by the conflict there, we think, "That's far away, poor children … why don't they have food?"
Yet, he proposed, "The same war is waged at home and in our institutions, stemming from rivalry."
"That's where war begins! And that's where peace must be made: in the family, in the parish, in the institutions, in the workplace, always seeking unanimity and harmony and not one's own interest," the Bishop of Rome said.
Making peace with small gestures, with giving freely, is how "we will help the peace of the world, of all peoples," Francis said.
UNICEF reports that in Yemen, about 1.8 million children are malnourished and a child dies every 10 minutes.
Read more:
Famine could engulf Yemen, says UN humanitarian chief
Last June, the Sovereign Pontiff asked the international community to make every effort to find a solution to the conflict in Yemen in order to avoid a "worsening of the already tragic humanitarian situation." Since 2014, this conflict has caused more than 10,000 deaths and nearly 10 million people are in need of emergency humanitarian aid.
Though the conflict in Yemen is making it hard for aid to get through, Catholic Relief Services works closely to support the work of a local partner, Islamic Relief Yemen. Islamic Relief is providing food, medicine, clean water and other essentials.
Donate to Catholic Relief Services here.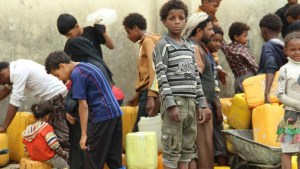 Read more:
Pope sends donation to South Korean diocese hosting Yemeni refugees