This creative idea is full of meaning and captures a family's sacramental life.
We recently celebrated the Baptism of Jesus which makes it a perfect time to consider our own children's baptisms and how to make them really special. One idea comes from a French mom, who goes by the name "Bérangère." She is  a trained architect, a keen photographer, a military wife, and in more recent years, a communications officer.
Bérengère, a mom of five, was trying to come up with a solution for what to do with her wedding dress. She had never been a natural hoarder and didn't see the point in stuffing her wedding dress into a storage box to place in the garage and gather dust. The idea of turning it into a cocktail dress wasn't appealing to her either.
She decided she wanted to transform it into something more meaningful. So, taking into account that the wedding dress is a symbol of purity, when her first child was born in 2004, she decided to transform her dress into a baptism robe.
Using some clever seamstress skills, she cut the length of the white cotton skirt to make a cape. She reduced the size of the waist around the box pleats to make a collar, then assembled a Peter Pan collar and an outer collar stand thanks to piping salvaged from the initial dress. She left two holes for the arms, and presto!
From a practical point of view the cape is adapted perfectly for baptisms as it is easy to pull on, contrary to the intricate lace dresses of our grandmothers that necessitated a certain degree of agility and time.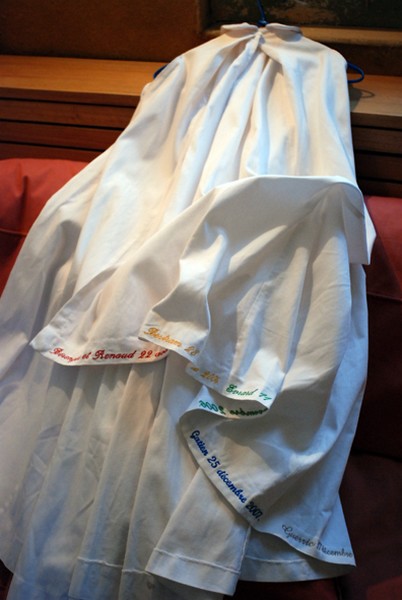 @ Bérengère H
A robe full of meaning
For Bérengère, the symbolism of this gown makes it all the more special because it "bears the sacramental life of the whole family." It marks the link between her and her husband's marriage and the baptisms of their five children — with each of their names and the dates of their baptism embroidered in different colors on the hem of the cape. Not only is it a way to keep track of these unique sacraments, it's a way to give another meaning to the white dress without spoiling its original identity.
This amazing idea is a great way to combine a thrifty, practical attitude with the profound theology of the sacraments. Not all of us have the skills to do something like this on our own, but we can all look for ways in which we can make meaningful connections between the sacraments we receive and the way we pass on the faith to future generations.