"I have found some of my most rewarding times with this age group."
Last summer, I got the opportunity to chaperone senior citizens across the country by train. Chicago, Grand Canyon, Vegas, Hollywood, and Albuquerque were just a few of the places on the list that we visited. Traveling with the wisest and sweetest people of our society has given me great joy. In a culture where seniors are the most neglected people, I have found some of my most rewarding times with this age group.
With this being my second year of traveling with those who are 60 or older and who come from all over the country, I have learned some pearls of wisdom I want to pass on …
1. Work now so you can play later
In Sean Covey's book, Highly Effective Teens, he wrote the phrase "pay now so you can play later."  As I travel with seniors, I see this principle lived out in their lives. I get to hear about the 30 or 40 years they put into their careers, and while it may not have been their first choice, they made the best of it. Now, they have a nice retirement to show for it. For millennials, especially myself, it's hard to fathom working in the same job for five years, let alone 30. We tend to explore our options, or what my seniors would call, "job hop."
My seniors help me see the importance of sticking with something. And while the job market has changed since they've been in it, this principle still applies.
2. Work out now, be healthy later
I come from a long line of healthy people. Women and men who are 60 or older but look like they are 45. My dad is 74 but could pass for 50. And while he may joke that he sometimes feels all 74 of those years, he gets around as well as I do. That's because my dad took care of himself when he was younger and the same goes for the some of the seniors I chaperone. They are mobile, eat right, exercise, and stay active daily. One of the male chaperones is 69 and raves about his annual physicals because he was in perfect health.
My seniors enabled me to see how important it is to build healthy habits for myself now. When I want to eat a dozen of Krispy Crème donuts and not go to the gym, I am reminded that it's easy to get away with those careless health habits now, but I would have to suffer the consequences later. I should create good habits now that will help me live a better and slightly easier life when I get older.
3. Attitude matters
In life, things don't always go as we plan. In travel, that's true times 10. As a travel chaperone, there have been lots of hiccups. From trains being delayed to seniors who needed assistance but weren't receiving it, I can tell you group travel is always hectic and whatever can go wrong usually does. However, some of my seniors knew that even when things didn't go well, we didn't have to let them define our trip or our lives. For many of them, this was the only opportunity to see the country they were born in and if they were to allow small mishaps to ruin their trip, they would miss out on the opportunity to enjoy great scenery and new adventures.
Life happens and it will happen on trips, too. But as long as we continue to have a pleasant attitude to endure and resolve those challenges, life and trips can be wonderful.
4. Don't let age stop you from traveling
One of the ladies I traveled with was 94 years old and she did not miss a beat on the trip. Her daughter was originally going to come with her, but wasn't able to attend at the last minute. Despite this, she found another chaperone. She told me that she didn't know how much longer she would be on this earth, but while she was here, she was going to see everything she could see.
The seniors I travel with live the life they have been given despite their age. They have paid their dues to society and now they are reaping the benefits. This is encouraging to me because it shows me what my future may hold.
5. Don't overpack
I've lifted so many bags and called many bellmen to assist with overpacked luggage that I could write an entire article on luggage alone. While a 15-day trip is 15 days, no one needs 15 days' worth of clothes. The things we think we need while traveling or living, we don't really need. It's just stuff that we can come back to later or sometimes not at all. If you are traveling, don't pack your bag to its maximum capacity. Packing too much makes travel hard and if you've moved a few times, you know that having lots of stuff makes life changes harder.
Pack light. Buy less. See more. Those are the three things I've taken from my seniors during our summer travels. No one wants to lug things around, especially things that, in a few months, we may not want anymore. After two years of traveling with senior citizens, my new life principles are to keep my camera memory large and my luggage small because I want to have more stories to tell than more things to bring back.
6. Let your faith guide you
It was a joy to learn how much faith guided my senior traveling companions in their life. I got to hear how they believe that God was an integral part of their lives. Before we travel by bus, the company I chaperone with has a policy that we don't leave without praying. The eagerness and excitement that the seniors had to this policy was encouraging. They began sharing with me their own faith journeys.
These intimate moments reminded me that my own faith was crucial to my development and that it is something I should continue to make a priority because it shapes the person I become.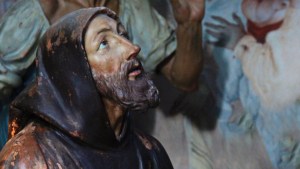 Read more:
3 Lessons about minimalism from St. Francis of Assisi