And why we should follow her example, even if those same 3 reasons still might apply to us ...
Jesus wants everything, no matter who you are.
In the Gospel for the 32nd Sunday of Ordinary Time, Year B, Jesus observes a widow giving a small sum of money to the temple treasury, and praises her.
Amen, I say to you, this poor widow put in more than all the other contributors to the treasury. For they have all contributed from their surplus wealth, but she, from her poverty, has contributed all she had, her whole livelihood.
But if we looked at the circumstances, you or I might have told the widow not to give.
Think of all the reasons this woman had to keep her money:
She was a widow, which left her with no status or means of livelihood in the culture of the New Testament.

Jesus has just told us earlier in the Gospel that the religious leaders of the time were not good stewards of widows' resources: "They devour the houses of widows and, as a pretext recite lengthy prayers," he says

Jesus asked the Rich Young Man to give all his money to the poor. This widow

was

one of the poor, and could easily have felt that she should be on the

receiving end

of charity, and not giving.
After all, speaking of the Rich Young Man …
Jesus's interaction with the widow is the opposite of his interaction with the Rich Young Man.
Remember the Gospel a few weeks ago when a young man who had followed the commandments his whole life asked Jesus what more he needed to do to gain eternal life? Jesus said, "One thing you lack: go and sell all your possess and give to the poor, and you will have treasure in heaven; and come, follow Me," he said.
The wealthy youth couldn't do it: He was too attached to his many possessions. He discovered that he was not the great man he may have thought he was.
The poor widow should be even more attached to her possessions, since she has so few. But she was not.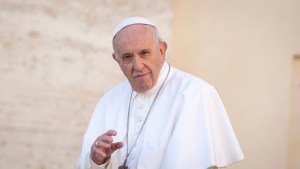 Read more:
Pope says 7th Commandment is about more than stealing. Am I breaking it?
She is reminiscent of the widow in today's first reading, who is quick to be generous with Elijah when he visits her.
For the Rich Young Man, riches were an obstacle to generosity. For Elijah's widow, generosity was a doorway to riches. In repayment to her gift, she receives a full jar of flour and plenty of oil; later, Elijah even resurrects her son.
Jesus made the same transaction with widows throughout his ministry.
He began his life bringing comfort to the prophetess Anna for her fidelity to the Temple. Later, he brought more than comfort to the widow of Nain: He raised her son. He even used the irresistible prayers of a widow to an unjust judge as a model for prayer.
The Second Person of the Trinity showed that the words of this Sunday's Psalm, 146, are true: "The LORD keeps faith forever, secures justice for the oppressed, gives food to the hungry," it says. "The fatherless and the widow he sustains."
The widow's challenge is to see God's care for her despite her predicament. That's our challenge, also.
We all are placed by God in the world, a place where there are abundant resources but where, at some point, we have to fend for ourselves. In an August 10, 1994, audience, Pope John Paul II said those who are separated or divorced are analogous to widows. But everyone, whether divorced or not, shares something of the position of the widow.
Ultimately, the illusion of reliance on human strength is just that: an illusion. Providence provides for us. Our job is to accept God's generosity and respond with our own.
Widows are mentioned so often in the Bible not because they are exceptional, but because we are all supposed to be like widows.
Apply the beatitudes from Luke to the life of widows:
"Blessed are you who are poor," he said. Widows in Biblical times had no one to provide from them.
"Blessed are you who are now hungry," he says. The widow we meet in the first reading today is ready to eat her last food, then die.
"Blessed are you who are now weeping," he says. Widows were in a state of near perpetual mourning.
Says the Catechism (No. 678) regarding the last day, "Our attitude about our neighbor will disclose acceptance or refusal of divine love."
Another way to say that is that whether or not we act like the Gospel widow will determine how we live for eternity.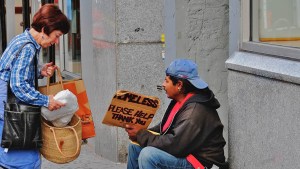 Read more:
Why giving to the poor is NOT actually charity