There is some valuable truth in this somewhat popular, self-centered phrase.
When I was growing up in the '90s, my generation was told time and again to "follow your dreams," that we could "be what we wanted to be." Now that I'm a millennial adult, the sentiment has taken a pithy turn and "you do you" is the axiom of the day.
Initially, I rolled my eyes at the phrase. It suggests that we're not responsible to anyone but ourselves. It seems to disregard the value of community and negate the existence of God or any higher power. It celebrates narcissism and congratulates putting the self first.
I sometimes find myself using this phrase in jest, but the more I think about it, the more I realize there may be some valuable truth there. We're each created with a unique combination of gifts, strengths, weaknesses, and a purpose. That reality is not to be taken lightly.
And the saints agree.
Consider St. Catherine of Siena, who said, "If you are what you should be, you will set all Italy ablaze!" (This line is often misquoted with "the world" in place of "Italy.") At first glance, this may seem to give the same impression as "you do you," but there's another — crucial — element at work. "What you should be" is not necessarily the same as "who you want to be." Striving to discover and embrace who you were created to be recognizes that more than your own psyche and your own heart need to be involved in decision-making. There is a greater force that ought be a guide.
Edith Stein, aka St. Teresa Benedicta of the Cross, expresses a similar idea, in writing to teachers: "The children in school … do not need merely what we have but what we are." (This one gets misquoted, too.) She puts an emphasis on being, not doing, and on essence rather than on possession or productivity. Her words indicate there is something about how we were created, about how we exist, that has tremendous value. By extension, there is something, Someone, in whom we can contemplate placing our trust.
Newly canonized St. Oscar Romero could chime in here, too. He said, "Let us not hide the talent that God gave us on the day of our baptism and let us truly live the beauty and responsibility of being a prophetic people."
We were created to love and serve God, each in his or her own way.
That will look different for each one of us. It's good that it looks different for each one of us. In honoring how we were created, we honor the Creator. When we tap into who we were created to be — rather than who we want to be, based on worldly influences and scattered ideals — we honor God. I've come to realize that being myself, "doing me," as it were, is actually a form of prayer. It's a prayer of gratitude, of praise, and sometimes even of petition, when I recognize my faults and lean into God's mercy and grace.
When we look to St. Irenaeus, this idea gains even greater clarity. "For the glory of God is a living man, and the life of man consists in beholding God." We can "behold" God in the sacraments, in nature, in a healthy relationship, and sometimes simply in a moment of stillness, of just plain being. When we let God be who He is, we can connect to who we are, who we were created to be, and what great joy and peace there is in that connection.
If we understand ourselves to be creations with purpose, with vocation, with a path laid before us that we can choose to walk down or walk away from, then yes, "you do you." If our hearts are aligned with the heart of God, our wills united to His for our lives, then I say, yes, "you do you," for sure.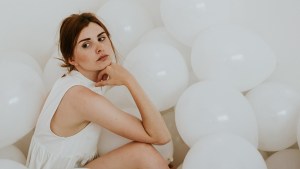 Read more:
St. Ignatius' psychological advice … long before psychology was even invented