Labeling our husband or wife this way has some far-reaching consequences.
When someone talks about his or her wife or husband as if they were a cross to bear, I try to hear the heart of the message: pain. It's a way of saying, "This relationship is painful to me," or "What this person is doing hurts me and is difficult for me." However, I think that identifying the other person with the cross serves neither the relationship nor the person experiencing the pain.
Can your spouse be a cross?
Labeling a spouse as a "cross" has far-reaching consequences. First, we identify the person of our spouse and the problem we are feeling in our relationship as being one and the same, as if to say, "You are the problem." In a way, this shortcut writes off our spouse as a person, puts him or her in a losing position, and questions the possibility of them being good. It also assigns good will only to one side, which is not always true.
I understand that often such words are used to describe a situation full of helplessness and powerlessness, when someone is accepting a difficult situation they feel they can't (or shouldn't) run away from. These feelings are understandable, and there may be good reason for them; still, I don't think anyone should call their spouse a "cross" — not because there isn't pain in a marriage, but rather because when pain appears, what we should do is identify the real cause and find out how we can help ourselves and our marriage.
When the problem is within us
In the first case, sometimes the pain comes from our own wounds, needs, and immaturity. Sometimes our needs, even though important and intensely experienced by us, are not possible for our wife or husband to fulfill. This can happen when we expect the other side to give us the kind of love and care we feel we didn't receive from our parents, or if we need constant care and implicitly expect our spouse to read our mind, or if we experience the smallest criticism as a wound. Is it his or her fault? No.
We could also have an infantile, simplistic idea about freedom, which is unrealistic within the obligations of family life. We could feel hurt that the other person is different than what we imagined or what we want. If these kinds of difficulty show up in our marriage, we need to straighten out our beliefs about what constitutes marriage.
It may be liberating for us to give freedom back to the other person, to start getting to know who they really are, and to learn how to accept them unconditionally.  "It is good that you exist," "I like you the way you are," and "You don't have to change, but if you want to, I'm ready to support you any way you need me to." To have the inner resources for such attitudes, we must first learn to feel that we ourselves are deeply loved and valuable.
When the problem is really on the other side
There are certainly actions that our spouse may be guilty of that are truly destructive to our marriage, including addiction, violence, or infidelity. These bring immeasurable suffering and feelings of helplessness an being overwhelmed. However, again, calling the other person a cross intensifies helplessness and resignation, when what is needed is action. If the problem is serious, we should get a professional therapist involved. In addition, if we realize that we (or our children) are in imminent danger of real harm, it is necessary to set hard boundaries to protect the family. Sometimes we have to take a radical stance against unacceptable behavior: "You're not sober for weeks on end, so you have to move out." "We will be separated until you go to therapy where you will deal with your anger and physical aggression."
Boundaries are not an act of revenge; they are a means to saving the relationship and giving it a chance to exist on new terms.
God wants us to be happy
And finally, God is neither a director nor author of suffering, and that's why another human being is not a cross that He sends into our lives. He wants a full life and growth for everyone. He is suffering along with a neglected wife because of her husband's addiction, or with a husband who has been betrayed by his wife. He draws close with His compassion to help people hurt in a marriage to restore what has been lost — self-esteem, hope, and possibilities for the future.
God also wishes the person who caused the pain to take the path of transformation and conversion, with His help. And finally, He practices, and calls us to practice, forgiveness. It doesn't mean the acceptance of evil, but the recognition that we are all imperfect and need to grow. Forgiveness opens the door to progress and the healing of the relationship.
The key is to recognize the situation or behavior as a problem, not the person.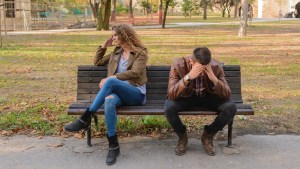 Read more:
The best thing to do when your spouse is having a bad day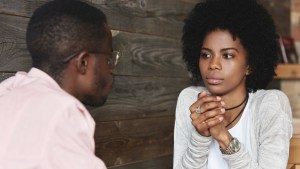 Read more:
The relationship red flag that means it's time to have a talk with your spouse