An acapella flash mob brought the restaurant to life with their Christian praise song, and it's gone viral.
A group of 60 acapella singers flash-mobbed a local Chick-fil-A with their rendition of the gospel song "Every Praise Is to Our God." With over 9.4 million views in less than a week, their surprise musical performance has been a hit with the public.
The male singers came from several countries including the United Kingdom, Australia, Brazil, Canada, Guatemala, and more. They were in town to attend the Acapella Ministries' Worship Leader Institute Conference. Arranging a flash mob for the local Chick-fil-A has become a tradition for the participants of the conference, and hopefully it will continue for many years to come.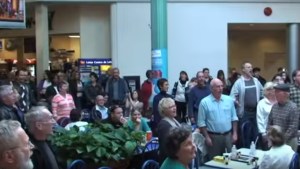 Read more:
Why this Hallelujah Chorus in a food court was more than just a "flash mob"