Sometimes those with least to give are the ones most ready to give it
Need an idea for Lenten almsgiving?
Help us spread faith on the internet. Would you consider donating just $10, so we can continue creating free, uplifting content?
Make a Lenten donation here
Jesus sat down opposite the treasury and observed how the crowd put money in the treasury. Many rich people put in large sums. A poor widow also came and put in two small coins worth a few cents.Calling his disciples to himself, he said to them, "Amen, I say to you, this poor widow put in more than all other contributors to the treasury … she from her poverty, has contributed all she had, her whole livelihood." —Mark 12:41-43, 44b
Several years ago, I had the opportunity to spend a summer in Lithuania. For three months I spent my weekdays helping orphans and foster children practice English, but free weekends allowed me to travel throughout the Indiana-sized country.
On one of those weekends, some friends and I were able to take part in a pilgrimage to a beloved Marian shrine in the Lithuanian countryside. While we were there, one of our group introduced us to a man he had gotten to know during his seminary days. No sooner had we exchanged greetings than this small man invited us to his home. It was a hot day and we gladly accepted his hospitality. But I was surprised when we arrived. His home was quite literally a shack built from mismatched pieces of lumber, tar paper, and corrugated metal. There was a small garden in the yard and a goat tied to a post nearby. I couldn't imagine what it would have been like to live there in the winter.
As the visiting American I was given one of the few chairs in the house and, after making sure everyone else in our group had a place to sit, he quickly disappeared, leaving us alone in the small, surprisingly tidy building. After a few minutes he reappeared with a bowl of strawberries and a little jug of goat's milk. We passed the bowl and jug around, each of us taking a few of the berries and a drink of the milk. I couldn't follow the conversation, but there was laughter and a sense of warmth that I still remember.
After we said our good-byes, I asked who this man was. My friend explained that he was something of a hermit who lived near the shrine and who was quick to welcome visitors, sharing what little he had—which was very little—for no other reason than that they were fellow believers.
This Sunday's story of the generous widow reminds me of that afternoon so many years ago. Like that man in Lithuania, the widow embodies a spirit of self-giving that has much to teach us about being a disciple of Jesus.
True disciples—unlike the religious elite of Jesus' day who were more concerned with obeying laws and observing human traditions—are willing to give all that they have. Unfortunately, we often think of this giving as being focused on possessions. And yes, giving away (i.e. charitable acts) and giving up (making daily sacrifices) are part of our Christian duty. But here, Jesus is celebrating how this woman is giving over all of her self—her entire life and livelihood—for the service of God. This is exactly the kind of self-offering that Jesus made in his Passion and Death when he held nothing back, giving over everything out of love for each of us. This is what he is asking of us.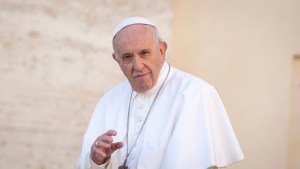 Read more:
Pope says 7th Commandment is about more than stealing. Am I breaking it?
Ultimately, this story of the "widow's mite" isn't about the size or amount of the gift. Instead, Jesus is reminding us that his disciples will be known not by what they give away or give up but by how they give over all that they are to God and to those around them, simply because they love.
When have you witnessed or experienced true generosity?

What would it mean for your "giving away" or "giving up" to be transformed into "giving over" all that you are for the service of God and those around you?

What are you holding back from God? From others?
Words of Wisdom: "When the widow put into the collection box only two small coins, the Master did not give her a recompense worth only two coins. Why was that? Because he paid no attention to the amount of the money. What he did heed was the wealth of her soul. If you calculate by the value of her money, her poverty is great. If you bring her intention into the light, you will see that her store of generosity defies description."—Saint John Chrysostom
Read more:
Want a more generous heart? Pray this prayer of St. Ignatius