Born Jewish and raised Christian, the famous 1940s and 50s actress had some unexpected talents.
In the 1940s, Hedy Lamarr was known as the "Most Beautiful Woman in the World" and little else. Forty years later, she was nearly forgotten. But today, Nov. 10, 2018 — the day after what would've been the starlet's 104th birthday — the Hollywood icon has become the subject of a remarkable, posthumous renaissance. And according to some, you may even owe the lady for the smartphone you might be reading this on.
With the publication of Hedy's Folly: The Life and Breakthrough Inventions of Hedy Lamarr, the Most Beautiful Woman in the World, and last year's release of the documentary Bombshell: The Hedy Lamarr Story (available now on Netflix), the glamorous actress is inspiring a new generation of fans — not with her beauty, but her brains.
Lamarr was indeed a remarkable, if flawed, woman, and as society looks at her again with new eyes, there are some helpful and inspiring lessons to draw from her life. Here are  four of them …
Don't let your mistakes define you
Lamarr was born Hedwig Eva Maria Kiesler in Vienna, Austria. Even though both of her parents were Jewish, her mother (Gertrud Kiesler) converted to Catholicism and raised her daughter as a Christian, according to Lamarr's biographer Stephen Michael Shearer.
It was under her birth name of Hedy Kiesler that she was given her first starring film role in the 1933 Czech-Austrian movie Extase, or Ecstasy in the United States. Allegedly, she took the role without even reading the part, and even during filming wasn't aware of how graphic the film — by 1933 standards — was going to be. Alas, it was the 50 Shades of Gray of its day. Lamarr later said that she was misled by the film's makers. Her scandalized parents walked out during the film, and Lamarr reportedly left in tears.
The film made her a star, but for years she was known only as the "Ecstasy Girl," and she says she was gawked at like "something in a zoo." Though she never completely shook off the baggage that came with that first role, a change of name (to Hedy Lamarr) and a change of location — to America — greatly helped.
Be brave
Lamarr's relocation to the United States didn't come without its own share of drama, though. She made another big mistake in 1933 — marrying arms dealer Fredrich Mandl. Though he was of Jewish descent, Mandl was a fascist with close ties to Italian leader Benito Mussolini and, later, Adolph Hitler. Both attended parties thrown by Mandl, and his beautiful wife listened carefully to the military-centric conversations around her.
In reading her story, you get the sense that these parties were about the only time Mandl let Lamarre see the sky. He'd lock her doors from the outside so she couldn't leave and apparently kept a stopwatch to keep track of her time. She was, in short, a prisoner in her own apartment, which Mandl built for her inside his own sprawling mansion. She eventually escaped by disguising herself as a maid and ran to Paris.
Remember, beauty is more than skin deep
"Any girl can be glamorous," Lamarr was once quoted as saying. "All you have to do is stand still and look stupid."
Lamarr's beauty was recognized from the time she was a young girl, but her parents dissuaded her from thinking much about her looks. "My mother always called me an ugly weed," Lamarr recalled later, and both her mother and father encouraged her instead to concentrate on other areas of her life. From the age of 5, she was already showing an interest in inventing, taking apart a music box and piecing it back together again.
After arriving in Hollywood and appearing in Algiers in 1938, Lamarr put her acting career back on track. She became one of the age's most sought-after stars. She reportedly became the template for two immortal and diametrically opposite characters: Disney's Snow White and Batman's Catwoman.
But she was a hard fit for Hollywood. She didn't drink. She hated parties, and preferred having intellectual conversations over dinner with friends. And the roles she was given — exotic femmes fatales, mostly — were less than challenging. So a bored Lamarr began dabbling in what might have been her real passion — inventing. Among her creations: A pill that would carbonate a drink and, she later said, tasted like Alka-Seltzer. (For some reason, it didn't catch on.)
But all those parties she was forced to go to with Mandl filtered into her "hobby," too. As World War II raged, Lamarr realized that Germans could jam the radio frequencies of U.S. torpedoes, keeping them from hitting their targets. She and pianist George Antheil developed a device that could engage in what Lamarr called "frequency hopping." It had the chance to have a huge impact on the war.
Be patient
But that chance never came to pass. The U.S. Navy gave them, essentially, a thanks-but-no-thanks brushoff.
"The Navy being the Navy, if it hadn't been able to make a torpedo that worked, obviously it wasn't going to be receptive to ideas coming in from outside," Richard Rhodes, author of Hedy'sFolly, told National Public Radio. "The Navy basically threw it into the file."
A couple of decades later, a modified version of Lamarr's and Antheil's concept started showing up in sonobouys, which were used to detect submarines. And that wasn't the end of it; Lamarr's invention was the technological ancestor to secure wi-fi, GPS, and Bluetooth.
Despite helping to pave the way for the information age, Lamarr never made a dime on her concept. But she slowly began receiving recognition for something other than her beauty, including some prestigious scientific and inventing awards. When one organization called Lamarr to let her know she was the winner of a vaunted honor, she allegedly responded, "Well, it's about time."
Hedy Lamarr was hardly a role model in every area of her life: Her many marriages testify to that. And yet she never let her show-stopping beauty stop her from using her wits and intelligence in some pretty remarkable ways. And that's worth remembering and learning from.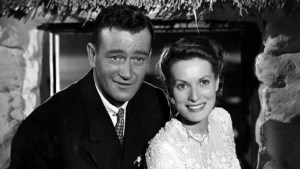 Read more:
9 Catholic stars from the Golden Age of Hollywood