He wasn't fooled by the trickery of the Evil One.
During the 4th century, St. Martin served in the Roman Military in Gaul, but eventually left service due to his strong religious beliefs. He felt called to become a "Solider of Christ," and to wage war against a different kind of enemy.
It didn't take long for the devil to start mounting assaults on the humble Martin. The first such episode is recorded in a medieval text called the Golden Legend.
When Martin was passing through Milan, the devil met him in the form of a man and asked him where he was going. He replied that he was going wherever the Lord called him to go, and the devil said: "Wherever you go, the devil will be there to oppose you!" Martin answered him: "The Lord is my helper, I will not fear what man can do to me!" The devil vanished instantly.
One of the most powerful weapons he used against the devil was his humility and austerity of life. Even after becoming a bishop, Martin chose to remain poor and live simply. For example, one day he stopped at a house within his diocese and the priests there offered Martin a bed of straw. Initially, he tried sleeping on it, but it was too comfortable for him and so he pushed it aside and slept on the bare floor. This was his preferred method of sleeping.
This humility also gave him a keen eye for the spiritual life. It allowed him the ability to discern what is from God and what is not. The devil tried to tempt him in this manner, but Martin wasn't fooled in the least.
Once the devil appeared to him in the semblance of a king, clothed in purple, wearing a diadem and golden shoes, serene and smiling of mien. For a long time neither one spoke. Then the devil said: "Martin, acknowledge him whom you adore! I am Christ and am about to come down upon the earth, but I chose to manifest myself to you in advance." Martin marveled at this but maintained his silence, and the spirit spoke again: "Martin, why do you hesitate to believe, since you see me? I am CHRIST!" Then the saint, instructed by the Holy Spirit, said: "The Lord Jesus Christ did not predict that he would come empurpled and wearing a glittering crown. I will not believe that Christ has come unless he is as he was when he suffered, unless he bears the stigmata of the cross!" At these words the devil disappeared, leaving the cell filled with a horrid stench.
St. Martin was a true "Soldier of Christ," and daily conquered the deceits of the devil, remaining under the banner of Jesus, using the Gospel and holiness of life as powerful weapons against spiritual attacks.


Read more:
How John Paul II infuriates the devil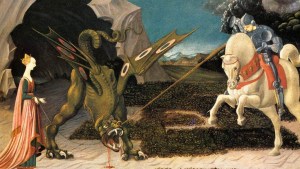 Read more:
These saints were professional dragon-slayers