While it may seen strange, walking amidst the graves of those who've gone before us is amazingly edifying.
Mariette Robinson, 1840-1902
As I pass this simple, small headstone and then some ornate larger ones, I look up to the big gray November sky. There are still a few leaves on the trees, but most are on the ground, crunching under my feet. I feel a somber peace, as I'm surrounded by reminders of people who lived and died before me, many of whom spent their lives in my town.
Who were they? I wonder about the lives they led. What about Mariette? Was she warm and loving, with a personality that could fill a room? Was she quiet and serious? What made her happy? What did she do in her life?
And what am I doing? How do I want to be remembered when I die?
I love walking in cemeteries. One of my friends introduced me to the practice, and I learned what a powerful experience it can be. Since then, I find cemeteries in new places I visit. Often, the older the cemetery, the more beautiful it is.
Not only is a cemetery a peaceful place to be, it also provides a good opportunity to pray for the dead. It's a great work of mercy to pray for the people who have gone before us, especially in the month of November — a month where the Church reminds us to remember the faithfully departed. One way to do this is to pray the traditional prayer "May the souls of the faithful departed, through the mercy of God, rest in peace" while walking around. What I like to do is stop in front of a few specific graves for a few seconds throughout my walk, and pray for those people individually. So, using that prayer, for example: "May the soul of Mariette, through the mercy of God, rest in peace."
I keep in mind cemetery etiquette as I walk and reflect. I stay on the paths that are already made and marked, and take a look at whatever rules are posted for that particular cemetery when I enter it. It's more respectful not to touch the headstones while walking along, as some are very old, and could easily be damaged.
These cemetery walks have a great way of keeping me grounded. I don't live near any cemeteries where people I know are buried, but I'm still prompted to remember them and reflect on their lives as I walk. And even thinking about strangers, and wondering what their lives must have been like, helps me consider my own life. What do I worry about every day? What are my goals? Are they centered on me? Or do they help and take into account people around me? After I die, how will people remember me? As someone who cared about them? Or someone who cared about myself?
Some of the things that I allow my mind to be preoccupied with every day just aren't very fruitful. The endless worries, distractions, and frustrations that I dwell on don't help me love others around me, they just keep me a little grumpy and focused inward.
As I walk and roll these thoughts around in my mind, I look around again. The leaves are falling, and there's a nip in the air. But I know the cold and gray won't last forever. Spring will eventually come and everything will be green and alive again. In the same way, I pray that the souls around me will soon see the glory of God in Heaven. And maybe one day, after my death, I'll make it there and get to meet Mariette Robinson in person.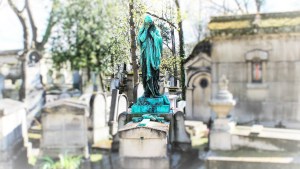 Read more:
5 of the most beautiful, awe-inspiring cemeteries in the world